My featured artist today is the nineteenth century French painter Eugène Boudin. He was one of the earliest en plein air painters and is credited with introducing plein air painting to Monet. He was a marine painter and his depictions focused on seascapes and the Normandy shorelines.
Portrait of the Artist's Father by Eugène Boudin (1850)
Eugène Louis Boudin was born in the coastal town of Trouville in Normandy on July 12th 1824. Leonard-Sebastien Boudin, Boudin's father, was a harbour pilot, and at the age of ten, young Boudin worked as a cabin boy on a steamboat that sailed across the Seine estuary between Le Havre and Honfleur and during those days on the water the young boy must have witnessed the constant fluctuations of the colours of the sea and sky which were aspects so important to plein air artists. Boudin's father gave up his seagoing life when Eugène was about twelve years of age. In 1835, Eugène moved with his family to Le Havre where his father established himself as stationer and frame-maker. Eugène began work the following year as an assistant in the shop before opening his own small framing shop which he co-owned. It was whilst running this shop that he first met artists who were working in the area and used his shop to exhibit their paintings. The most well-known of these were the landscape painter, Constant Troyon, Jean-Francois Millet, the portraiture artist, Jean-Baptiste Isabey and the history painter, Thomas Couture. Eugène would receive encouragement from these painters to abandon the world of commerce and take up painting. In 1846, aged twenty-two, Eugène Boudin took their advice and gave up the stationery shop and began to paint full time. He had sold his share of the business to buy himself out of military service and in 1847, he travelled to Paris and spent time travelling through the Flanders region. Boudin was profoundly influenced by the Dutch 17th-century Masters and when he met the Dutch painter Johan Jongkind, who had already made his mark in French artistic circles, Boudin was advised by his new friend to paint en plein air. Three years later, in 1850 he won a scholarship that allowed him to move to Paris. However, he never forgot his roots and would return to Normandy to paint and later take many painting trips to Brittany.
The Road from Trouville to Honfleur by Eugène Boudin (c.1852)
During that early period, Eugène painted rural landscapes, peasants, and still life works, but soon his love of the sea and the seaside progressively attracted his attention, and in 1862, he began to paint the crowds of fashionable tourists who had descended on the Normandy beaches. Seaside resorts began to appear on the French Channel coast and in what was to become Belgium and the Netherlands in the late eighteenth century. By the early nineteenth century the commercial sea-bathing habit was making an impact on Normandy.
Fishermen by the Water by Eugène Boudin (1855)
Up until that time artists' coastal scenes were rarely populated, and if they did include figures they were likely to be local fishermen. Boudin's coastal scene paintings were adventurously modern in nature depicting smartly dressed holidaymakers engaging in leisure activities.
Elegant Women on the Beach by Eugène Boudin (1863)
His modus operandi was to sketch en plein air during the summer months and finish off the paintings in his studio during the winter months. Boudin still respected the established tradition of outdoor painting. His plein air sketches were merely studies rather than finished works and they had to be finalized in his studio utilizing the many sketches he had made as well as the meticulous notes he had recorded about atmospheric conditions and the time of day when the sketches had been made. It was a painstaking operation as he once wrote in a letter to one of his students:
"… An impression is gained in an instant, but then it has to be condensed following the rules of art or rather your own feeling, and that is the most difficult thing – to finish a painting without spoiling anything…"
However, Boudin changed his methodology realising that there was an innate wrongness with his system of completing works indoors and so he would, from start to finish, complete his works en plein air. This inherent immediacy of work painted outdoors allowed him to be aware of changing weather and light conditions.
The Beach at Villerville by Eugène Boudin (1864)
Claude Monet was born in Paris on November 14th 1840 and at the age of five moved with his family out of the French capital and went to live in Le Havre. Monet was fourteen years younger than Boudin but it is said that around 1856, sixteen-year-old Monet met fellow artist Eugène Boudin, who then became his mentor and taught him to use oil paints. Boudin who befriended him also taught Monet the technique for outdoor painting. This was to have a great influence on the young artist. Up to the early meetings with Boudin, Monet had concentrated on his teenage caricatures but was persuaded by Boudin to focus all his time on landscape painting. Monet recalled the time:
"…it was as if a veil had been torn from my eyes. I had understood, had grasped what painting could be. Boudin's absorption of his work, and his independence, were enough to decide the entire future and development of my painting…"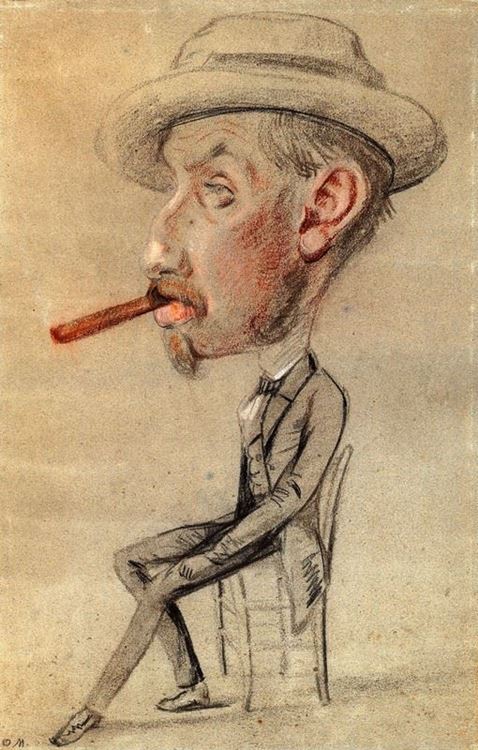 Caricature of a Man with a Big Cigar by Monet (1855-1856)
Boudin helped Monet to love the bright hues and the play of light on water. Monet remembered Boudin's words of encouragement and later paid tribute to Boudin's early influence:
"…Boudin without hesitation, came up to me, complimented me in his gentle voice and said 'I always look at your sketches with pleasure, they are amusing, clever, bright. You are gifted; one can see that at a glance. But I hope you are not going to stop there. It is all very well for a beginning, yet soon you will have had enough of caricaturing. Study, learn to see and paint, draw, make landscapes. The sea and the sky, the animals, the people and the trees are so beautiful, just as nature had made them, with their character, their genuineness, in the light, in the air, just as they are'…"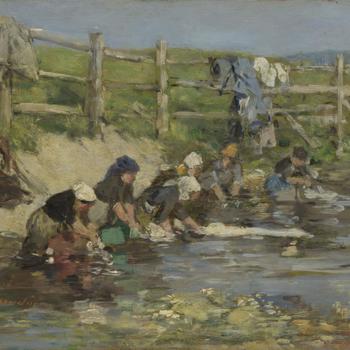 Laundresses by a Stream by Eugène Boudin
This would later become evident in Monet's Impressionist paintings. Boudin offered Monet the chance to help him in his framing shop but the young man declined but later that summer he acquiesced. The two remained lifelong friends and it was probably through Monet that Boudin was asked to participate in the First Impressionist Exhibition in 1874.
In 1859 Boudin met Gustave Courbet who introduced him to the poet and art critic, Charles Baudelaire, who was the first critic to draw Boudin's talents to public attention when he made his debut at the 1859 Paris Salon.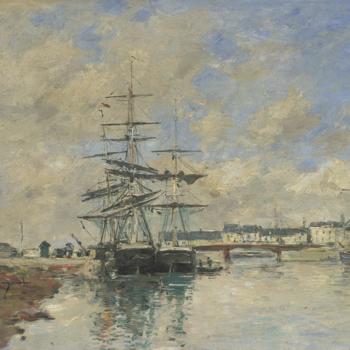 Deauville Harbour by Eugène Boudin
Boudin was to later join Monet and his young friends in the first Impressionist exhibition in 1874, but he never considered himself a revolutionary trend-setter unlike some of the other artists. So now Boudin's work featured at both the Imressionist's First Exhibition as well as at the Paris Salon that year. In a way Boudin had created a vital connection between the past and future trends of French art, and by so doing won the admiration of his contemporaries. Boudin could have become a regular member of the Impressionists but chose not to.
Boudin had mental issues in the form of bouts of melancholia and he always seemed to doubt his own ability. He was introverted and never felt the need to bolster his reputation which may have been enhanced if he had decided to live in the French capital and regularly mix within the Paris art circle. Boudin preferred to remain living in Normandy.
In a letter, from Paris, dated June 14th 1869, to family-friend Ferdinand Martin Boudin tells of his desire to return to Normandy:
"…I dare not think of the sun-drenched beaches and the stormy skies, and of the joy of painting them in the sea breezes…"
The paintings that Boudin made of the coast were consistent with the ideals of the depiction of light which became popular with the Impressionist movement and so we must realise that Boudin continued to be an influence with the group.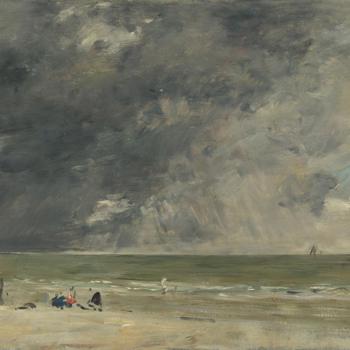 Beach at Trouville by Eugène Boudin
Boudin was a master when it came to depicting skies. Fellow artists, like Corot, praised that aspect of Boudin's paintings and nicknamed him King of the Skies. In 1859 the poet Charles Baudelaire rhapsodically described the skies in Boudin's paintings, shown at the Salon, 'prodigious spells of air and water'.
………..to be continued.