The paintings by today's artist are highly colourful and whose early works showcased the people and landscapes of Brittany.  His works have a strong resemblance to paintings by Paul Gaugin and as you read further on you will see the reason for this similarity.  My artist today is the French Post-Impressionist painter Paul Sérusier.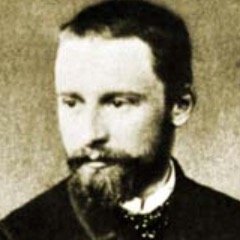 Paul Sérusier, or to give him his full name, Louis-Paul-Henri Sérusier, was born on November 9th, 1864, in Paris.  He was born into a prosperous middle-class family.  His father, of Flemish descent, was a successful businessman in the perfume industry, and was able to afford to give his son a good education. In 1875, aged ten, Paul entered the Lycée Fontane, later known as Lycée Condorcet, one of the four oldest high schools in Paris and also one of the most prestigious.  It was here that Sérusier studied classical philosophy, Greek and Latin, and the sciences. Also attending this school were fellow students and future artists Maurice Denis, Édouard Vuillard, and Ker-Xavier Roussel.  Sérusier graduated from the Lycée in 1883 with two baccalaureates, one in philosophy and one in the sciences.  Paul's father wanted his son to have a career in business and arranged for him to join the company of his friend as a salesman but after a short period Paul realised that life in business was not for him as he had set his heart on becoming an artist and in 1885 he enrolled at the Académie Julian where once again he was with his friend Maurice Denis and a life-long friendship between the two began.
The Weaver by Paul Sérusier (1888)
Before we look at Sérusier's post 1888 paintings I wanted to show you one of his Realist paintings which he completed in early 1888 before he made the trip to Pont Aven.  It is so different in comparison of what was to come.  It was entitled The Breton Weaver.
Pont-Aven: towards the Bois d'Amour
Pont-Aven, a commune in the Finistère department of Brittany in northwestern France became one of the most popular and influential art colonies, visited by hundreds or even thousands of artists, well into the twentieth century. In 1888, Sérusier arrived at Pont-Aven and his attention was soon attracted by a group of artists who crowded around Emile Bernand and Paul Gauguin. Sérusier was finally introduced to them and even received a lesson from Gauguin. Gauguin encouraged the young artist to free himself from the limitations of imitative painting, and instead use pure colours.  He was also advised to overstress his impressions, and by doing this, give to the painting his own, decorative rational and symbolic structure.
Bois d'Amour in Pont-Aven by Paul Sérusier.  Later known as The Talisman.
That summer, Paul Sérusier listened to and took part in conversations with Bernard and his friend Paul Gauguin discussing their ideas concerning moving on from Impressionism and its fixation with studies of light and nature and rather simplify, interpret, and arrange nature.  At the beginning of October 1888, with artistic advice from Gauguin, Sérusier painted Bois d'Amour in Pont-Aven.  It is a pioneering work in its use of flat surfaces in random colours.  So, what made Sérusier choose this location?  The French writer Denise Lelouche described the location writing:
"…The Bois d'Amour, where all the painters from the Pont-Aven community liked to come, seduced by the stillness of the place, the beauty of these venerable trees, the richness of the reflexions constantly disturbed by the flow of the river colliding with the granitic rocks, and the clouds sweeping and shading the light according to the wind…"
The Bois d'Amour, or "Wood of Love" is located on the heights of Pont-Aven and used to be a hotspot of inspiration for the artists staying in Pont-Aven.  The story behind this painting starts in October 1888 when twenty-four-year-old Paul Sérusier, travelled to the artist's colony at Pont-Aven in Brittany, with a letter of introduction to Paul Gauguin. With his letter to Gauguin from Émile Bernard, his idea was to make studies of nature in the picturesque countryside around Pont-Aven.  Sérusier later described his experience to Maurice Denis, recounting how he and Gauguin had walked to the Bois d'Amour, a picturesque landscape of forest and rocks along the river Aven, not far from the village. Gaugin encouraged Sérusier to forgo modelling, perspective, and all such attempts at three-dimensional effects and to use a simplified colour palette It was here that Gaugin asked Sérusier how he saw these trees? Sérusier replied that they were yellow. Gaugin then continued that Sérusier should put some yellow. This shadow, it's rather blue, paint it with pure ultramarine. Those red leaves? Put vermillion.  On the back of the Bois d'Amour canvas, Sérusier wrote
"…Made in October 1888 under the direction of Gauguin by P. Sérusier at Pont-Aven…"
Breton Women, the Meeting in the Sacred Groveby Paul Sérusier (c.1892)
Sérusier returned to Paris with the painting and showed it to his fellow students at the Académie Julian. Many derided the work for its garish blocks of colour but several, particularly Maurice Denis, Pierre Bonnard, and Paul Ranson, Henri-Gabriel Ibels and Renée Piot, were highly enthusiastic about this new way of depicting a landscape.   Sérusier proposed to them the creation of the artistic fellowship of the Nabis, a term which in Hebrew means "prophet".  He was to play an important role, both as an artist and as a theoretician.  The painting was placed in the studio of the oldest of the painters, Paul-Élie Ranson, age twenty-four, at 25, boulevard du Montparnasse. It was Ranson who gave the painting the name The Talisman.  When it was first exhibited in 1903, Maurice Denis wrote:
"…Thus we were presented, for the first time, in a form that was paradoxical and unforgettable, the fertile concept of a flat surface covered with colours assembled in a certain order…"
The reputation of Paul Sérusier and his painting, The Talisman, was kept alive by the efforts of Maurice Denis, who was the chief theorist and historian of the Nabis, He became the guardian of the painting in about 1903 and wrote continually about the importance of the artist and the work. After the death of Denis in 1943, the painting became part of the collection of the French government, and eventually of the Musée d'Orsay in Paris.
Ironically, The Talisman was not a completed work as Sérusier intended it to be a simple sketch which would later be used for a future work.
Landscape at Le Pouldu by Paul Sérusier (1890)
This group of young Académie students known as Les Nabis held Paul Gauguin and Paul Cézanne in high esteem and set their minds to renew the art of painting, but each varied greatly in their individual styles. Their common belief was that a work of art was not a depiction of nature, but a synthesis of metaphors and symbols created by the artist.  The Nabis felt that as artists they were creators of a subjective art that was deeply rooted in the soul of the artist.  Les Nabis held their final exhibition in 1900 and then went their separate ways.
Undergrowth at Huelgoat by Paul Sérusier (1905)
Sérusier returned to Paris in the Autumn of 1889.  The following year he gave up his studies at the Académie Julian saying he no longer believed in the academy teachings.  In the summers of 1889 and 1890, Sérusier returned to Brittany to work with Gauguin in the coastal Breton village of Le Pouldu. There, he was deeply moved by the simple and pious life of the Breton people.   After Gauguin  left for Tahiti in April 1891, Sérusier remained for the summer in Brittany as he found plenty of atmosphere there and did not feel any need to go elsewhere.  The works he painted during this period are brightly coloured; in Gauguin's style, but were said to be less forceful and more 'anecdotal'.
Shepherd in the Valley of Chateauneuf by Paul Sérusier (1917)
In 1891 Sérusier established his atelier in the towns of Huelgoat and two years later in Châteauneuf-du-Faou, where he continued to paint Breton women, usually immersed in their everyday chores, allowing himself to be guided by the example of his master and by his interest in Japanese prints. His trips to Paris were reduced to short breaks during the winters, in order to exhibit with his fellow Nabi artists.
Sérusier enjoyed his time in Paris as in the French capital he had the company of his Polish mistress, Gabriela Zapolska, but when she suddenly left him in 1895, he decided to isolate himself in the Britanny commune of Châteauneuf-du-Faou.  Sérusier became depressed with his life during 1897 and in 1898 went through a period of intellectual doubt only resolved in 1902.
Although the date given for the completion of Sérusier's Washerwomen painting is around 1897, it is thought that work started on this depiction around 1886 when he was attending the Académie Julian.
One of Sérusier's fellow member of Les Nabis was the French painter Paul Ranson and in 1890 Sérusier completed a portrait of his friend. In the depiction Ranson, who was famed for his religious works, is portrayed in the role of a bishop seen clutching an ornate crosier in his left hand whilst studying the text of an illuminated book.
One of the popular sports during the days Sérusier was living in Brittany was Breton Wrestling, where it is known as gouren. Gouren is a style of folk wrestling which has been established in Brittany for several centuries. 
In 1898, mainly thanks to his friend, the Dutch Post-Impressionist and Christian Symbolist painter, Jan Verkade, who was close to the Nabi group he found a kind of solace. Sérusier visited Verkade at the monastery of Beuron in Southwest Germany, where Verkade had been living since his conversion to Catholicism and entering the Benedictine Order. Whilst living at the monastery, Sérusier was taught by the artist and Benedictine monk Desiderius Lenz, who together with Gabriel Wüger founded the Beuron Art School.
From then on, Sérusier developed a complex theory on the use of colour consisting in the separation of warm and cold colours, in order to avoid chromatic dissonance. At the same time, Gauguin's influence began to give way to a more hieratic and allegorical painting, inspired by medieval tapestries. He spent a great deal of time studying Egyptian art, the Italian primitivists, and the tapestries of the Middle Ages so that he could create decorative works of a mysterious and calculated timelessness
In 1908, Sérusier began to teach painting at the Académie Ranson in Paris and one of his first students was the artist daughter of an army officer, Marguerite Gabriel-Claude.  She was born in Lons-le-Saunier on March 12, 1879.  She attended the maison d'éducation of the Légion d'honneur and later was a student at the Beaux-Arts in Paris. She then enrolled at the Académie Ranson where she met and became friends with Sérusier.
Friendship soon turned to love and on February 22nd, 1912, Abbé Ackermann, who had been Paul Sérusier's former philosophy teacher at the Lycée Condorcet, blessed the marriage of the two artists at the Paris Church of Saint-Sulpice. The couple went to live in Sérusier new house at 27 Duchenn Glaz. That same year Sérusier completed a painting of his wife entitled Madame Sérusier à l'ombrelle.
Marguerite Sérusier loved the art of tapestry, and it was she who encouraged her husband to persevere in wall art. Thus, around 1913, the plasters of the vestibule, the corridor and the staircase of their residence were decorated with astonishing achievements on religious, pagan or esoteric themes. It was also Marguerite who encouraged her husband to resume his project of decorating the walls of the baptistery of the parish church of Saint-Julien in Châteauneuf-du-Faou, which was carried out from 1914 to 1917.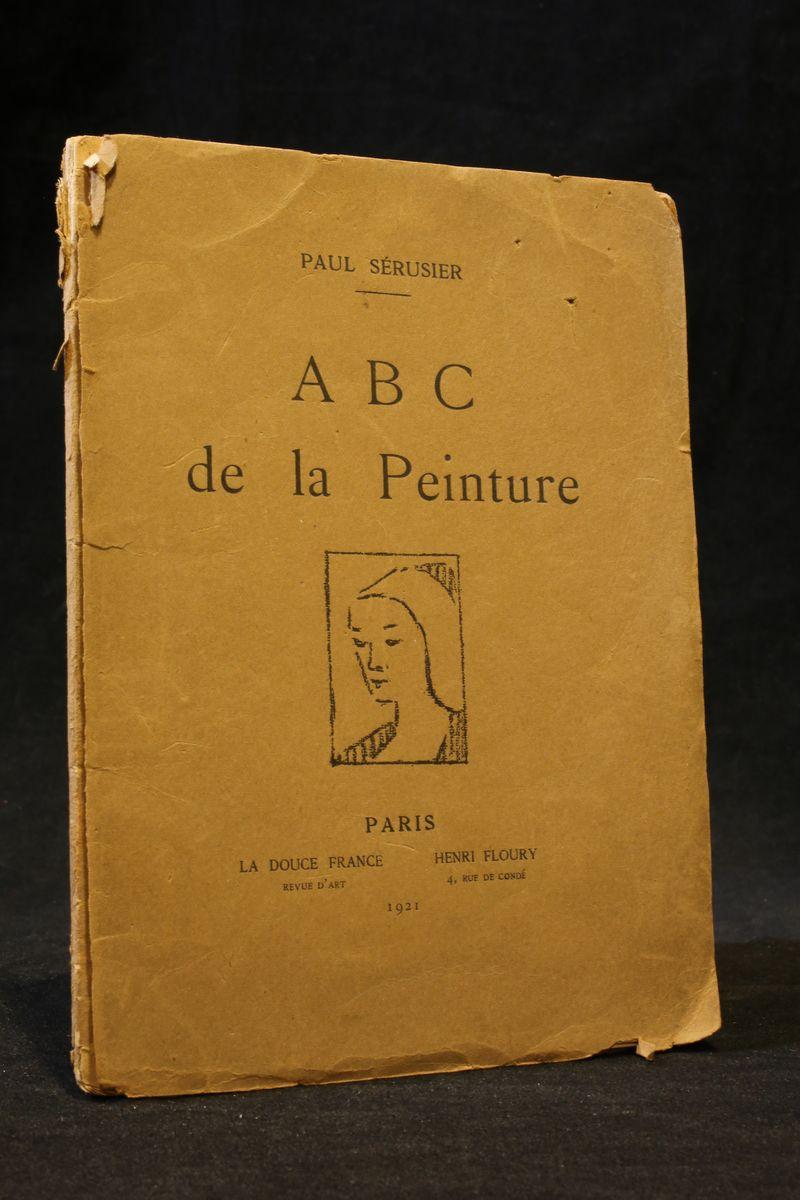 His experience as a teacher led him years later to publish his 1921 guidebook ABC de la peinture.
Whilst visiting his wife in hospital in Morlaix, Paul Sérusier died of a heart attack on October 6th, 1927, a month before his sixty-third birthday. His wife Marguerite died in September 1950 and is buried in Morlaix with her husband.