If you happen to visit Manchester, England, you will find two main art galleries, the Manchester Art Gallery and the Whitworth Gallery.  Last weekend I was in the city for a weekend break and decided to revisit the main Manchester Art Gallery.
The main part of the collection is derived from the Royal Manchester Institution which demonstrated a partiality for purchasing contemporary art and that predilection continued when it eventually became the City Art Gallery in 1883.  The retired Bradford-based textile businessman and philanthropist with a passionate love of art, Charles Rutherston, although not an artist himself, was both an art collector and a generous friend and patron to artists.  He had amassed a large collection of paintings which he bequeathed to the Gallery in 1925.  Between the two World Wars, the Gallery accumulated a large number of contemporary artworks.  Today the Manchester Art Gallery has an extensive collection of work by nineteenth-century British artists, particularly the Pre-Raphaelites.  In 1979, the European Old Masters collection was transformed by the Assheton Bennett bequest of almost a hundred paintings, mainly by seventeenth-century Dutch and Flemish artists. Today the collection includes over 2,000 oil paintings, plus related studies and archival material, and there is a renewed focus on collecting contemporary art.  In the next three blogs I will be looking at some of  my favourites which were on view.
Chalk drawing of Jane Morris by Rossetti (1875)
In the Gallery, there are a number of paintings by the Pre-Raphaelite artists but the one I find the most haunting is Rossetti's late work entitled Astarte Syriaca.  The story behind this work started back in 1875 with a chalk drawing Rossetti had made of Jane Morris, his lover.  Rossetti's friend, Theodore Watts–Dunton, told Rossetti that the drawing could form the basis of a full-length Venus portrait.  After one of Rossetti's patrons, Clarence Fry saw some of the preliminary sketches in August 1875, he commissioned Rossetti to complete the Venus painting.
Rossetti started working on the painting, Astarte Syriaca, sometimes known as Venus Astarte, in the Autumn of 1875 but abandoned it, unfinished in March 1876, saying that he was dissatisfied with it and he began work on the "second" Astarte.  Finally it was completed in December 1876 and framed at the end of January 1877 ready for his patron.  Jane Morris was the model for Venus (and May Morris, her sister, the attendant figure on the left)
Astarte Syriacs by Dante Rossetti (1876)
The depiction is a full-length figure of a woman dressed in sea-green robes, gazing towards us, the viewer. Astarte Syriaca has long, thick. and wavy flowing hair that flows on her back.  She is pictured holding an ornate floral metal strap with her left hand under her chest. Her left hand seems to be holding a similar strap that rests around the hips area.  This is known as a traditional pudica pose.
Both her hands, the limbs, and her breast are large, and her lips seem to be full and pink. Astarte Syriaca portrait is one of Gabriel Rossetti's iconic paintings that romantically evokes the marvellous power of women in the context of the European Symbolist Movement, the nascent pan. In the same breath, it signifies as a covert admonition of the patriarchal Victorian Christianity. It can as well be interpreted in various other ways.   The woman has one of her legs placed forward to look as if she is striding towards us.  Also in the painting we see two male figures placed symmetrically in the background.  Rossetti wrote a sonnet which was first published in 1877 and which accompanied the painting.
ASTARTE SYRIACA
Mystery: lo! betwixt the sun and moon
Astarte of the Syrians: Venus Queen
⁠Ere Aphrodite was. In silver sheen
Her twofold girdle clasps the infinite boon
Of bliss whereof the heaven and earth commune:
⁠And from her neck's inclining flower-stem lean
Love-freighted lips and absolute eyes that wean
The pulse of hearts to the spheres' dominant tune.
Torch-bearing, her sweet ministers compel
⁠All thrones of light beyond the sky and sea
⁠The witnesses of Beauty's face to be:
That face, of Love's all-penetrative spell
Amulet, talisman, and oracle,—
⁠Betwixt the sun and moon a mystery.
Cinderella by Valentine Prinsep (1899)
The next painting featuring a female is simply entitled Cinderella.  The artist is Valentine Cameron Prinsep who was born in India on St Valentine's Day 1838.  His father was a civil servant based in the country but who would return to England with his family when Valentine was five years old.  Valentine's mother was a great art lover and would often hold parties at their Kensington home with artists and writers, including poets Alfred Lord Tennyson and Robert Browning and artists John Everett Millais, Dante Gabriel Rossetti and Edward Burne-Jones. Although his parents assumed their son would follow his father into the Indian Civil Service but having been stirred by the artistic company he kept, Valentine decided his future life should be as an artist too.  Prinsep never reached the status of a great artist although he had his successes.  He was influenced by Rossetti, Millais and Burne-Jones, and he painted initially in the Pre-Raphaelite style. He exhibited at the Royal Academy of Arts for the first time in 1862, after travelling with Burne-Jones in Italy.
The painting, Cinderella, was completed in 1899 and is a work of great sentimentality.  The young girl rests against the stone wall of the kitchen.  It is a depiction of poverty.  The girl is barefooted and is wearing a dress which is ragged at the hem.  She raises the hem of the skirt to allow the warmth from the fire to caress her body.  Look at her posture and facial expression.  Is it a happy looking expression awaiting for the arrival of somebody she looks forward to seeing or is it one of trepidation at the thought of the impending arrival?  We all know the story of Cinderella so probably we also know the answer to the question.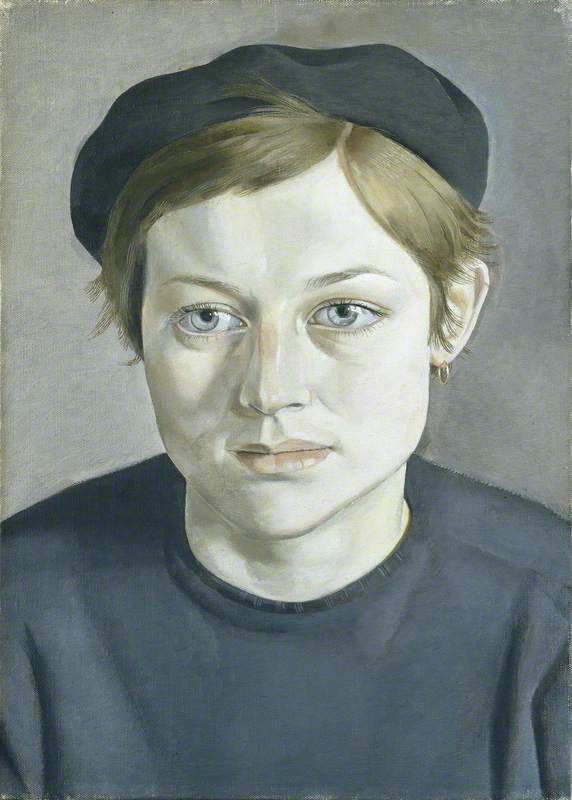 Girl with a Beret, the 1959 painting by Lucian Freud is a beautifully painted, close-up head and shoulders portrait of a young woman wearing a plain blue-grey jumper and beret. The girl has pale skin and shiny blue eyes, which stare off to the left in a self-absorbed manner. Her hair is parted to one side and she wears a small gold hoop earring in her left ear. The background colour is muted.  Freud liked his portraits to be of people he knew well and as such were people Lucien had a close personal relationship with and because of this, these portraits could be looked upon as being pictorial autobiographies.  The sitter for this portrait is the Irish actress, Helena Hughes who was twenty-three at the time.  Helena had been introduced to Freud by his lover Anne Dunn during one of his frequent visits to Dublin in the 1950s. In 1950, Helena Hughes had invited Freud to Paris where she was working on a stage production with Orson Welles. The portrait took more than one hundred and fifty sittings to complete and for this protracted length of time artist and model were together which led to an intensity of their relationship and in a way, this could be detected within the painting.
The painting entitled Sapho was completed in 1877 by Charles-August Mengin, a French Academic painter and sculptor.  He was a pupil of Alexandre Cabanel and exhibited regularly at the Salon from 1876 to 1927.  Sappho was a Greek lyric poet born around 600 BC. Her poems considered love, desire and contemplation.  Many of her works were devoted to her female pupils who studied with her on the island of Lesbos. Legend had it that she threw herself into the sea from the cliff of Leucadia because Phaon, a young man from Mitylene, did not return her love.  In the painting we see Sapho depicted standing on the cliff edge in dark, in translucent robes, with her breasts exposed. Her left arm rests lightly at shoulder height, on a huge rock whilst her right hand holds her lyre down by her right side. Her face is partly put in the shade by her dark wavy hair, gauzy veil. Her dark eyes, which have shadows beneath them, stare down into the middle distance.  Her feet are bare. She wears gold hoop earrings, a gold bangle, and there is a gold tie or belt around her waist. The dark sky in the background, which is only broken by a sliver of light on the horizon adds to the feeling of impending doom.  Two grey birds fly in the sky behind.
And now for something different. Gone is the exotic beauty of Sapho and Artiste Syriaca. Gone is the everyday prettiness of the girl wearing her Beret. It is now about the reality of mortality.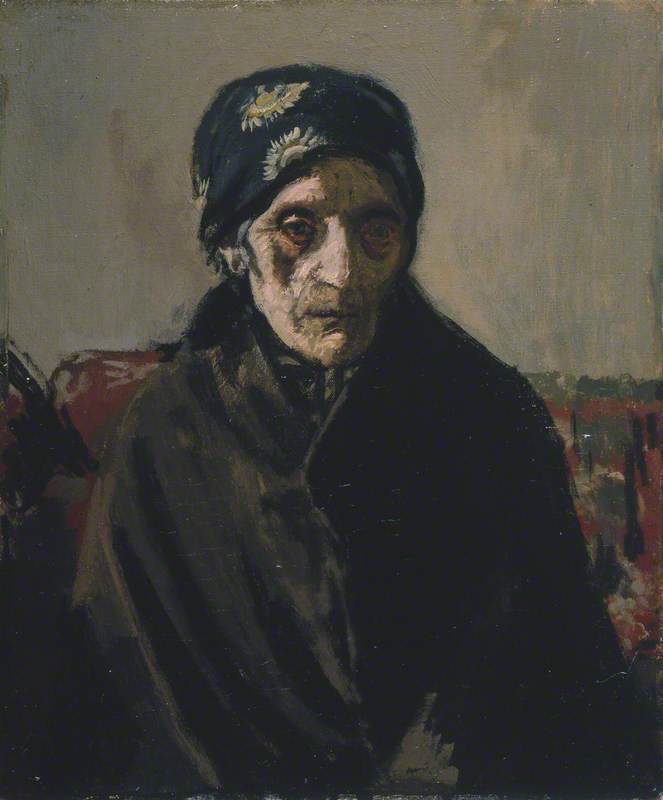 Walter Sickert, a German-born English painter, made a series of visits to Venice, initially focusing on the city's topography but it was during his last painting trip from the autumn of 1903 to the summer of 1904 that, due to inclement weather, he was forced indoors to his small studio at 940 Calle dei Frati, close to the Rialto, to paint and it was during that time he developed a distinctive approach to portraiture. The models for many of the Venetian paintings are believed to have been prostitutes, whom Sickert might have known through being a client. One of his models which he nicknamed La Giuseppina was his favourite and one day she arrived at the studio with her mother, the old lady who became known as mamma mia poveretta (my poor mother)
In the first decade of the twentieth century in Britain which was also the end of the reign of Queen Victoria, artists and designers began to try new things.  Artists were starting to create a new art for a modern era. Traditional ways of completing portraits, landscapes and interiors would be undertaken in new ways.  Gone was the romantic view of life and an acceptance that urban life was often a matter of hectic rushing around and there was definitely an air of brutality to it.  Life was becoming a challenge.  Walter Sickert's 1904 painting entitled Mama Mia Poveretta is realist depiction of life.  It is a half-length frontal portrait of this gaunt, almost emaciated elderly Venetian woman who is nearing the end of a hard life.  She is wrapped in a dark shawl and wears a headscarf. She has turned her head slightly to the right, and her face is illuminated from the left and highlights the darkness around her eyes.
In my next blog I will look at work by some of the Pre-Raphaeliete artists which are on display at the Manchester Art Gallery.
………………………………..to be continued