Self Portrait (1908)
At the turn of the twentieth century, the South Carolina city of Charleston was a shadow of its former glory. Charleston had historically nurtured a celebrated art and architectural heritage during the Colonial Period and Antebellum period but following the end of the Civil War in 1865 and the Reconstruction period 1865-77, it struggled to continue doing so. Between the two World Wars, beginning in the second decade of the 20th century, Charleston experienced a renaissance that flourished in part due to the work of authors, architects, artists, poets, & preservationists who rallied behind the common cause of 'the betterment of the city'. It was a period known as the Charleston Renaissance and is credited with helping to spur the city's tourist industry. Of the various artists associated with the movement, four of them stand at its forefront: Alfred Hutty, Alice Ravenel Huger Smith, Anna Heyward Taylor, and Elizabeth O'Neill Verner. In this blog I am looking at the life and artwork of one of the four, Alice Ravenel Huger Smith.
Alice Ravenel Huger Smith, aged 25.
Alice Ravenel Huger Smith was born in Charleston on July 14th 1876. She was the fourth of five children and was descended from prominent rice planters and was the daughter of Daniel Elliott Huger Smith and Caroline Ravenel and was part of a socially prominent Charleston family. Although artistically self-taught she later did attend some classes in drawing and painting at the Carolina Art Association. Louise Fery, a Frenchwoman, instructed her students in the basics and, most importantly for Alice, in the technique of watercolour. The Art Association was established in 1857 by a group of prominent low country planters and factors and was officially chartered by the General Assembly on December 21, 1858. Its purpose was the cultivation of the arts and art education. It is now part of the Charleston's Gibbes Museum of Art. Alice Smith began her artistic career by making money from her portraiture, copying old family images and painting friends and relations. She also dabbled with painting fans and dance cards.
Celestial Figs by Alice Smith. Colour woodblock print. (1917)
Of her early artistic influences, one was Birge Hirston, the American genre and landscape painter, teacher, and writer who was a prominent practitioner and advocate of Tonalism. Tonalism was an artistic style that emerged in the 1880s when American artists began to paint landscape forms with an overall tone of coloured atmosphere or mist. Alice met him during his extended visit to Charleston in 1908. Later she would credit Hirston as being her guide when it came to her romantic style with regard to her landscape depictions.
Woodblock Print by Helen Hyde
Another influence which inspired Alice Smith was the Japonisme aesthetic of the American etcher and engraver, Helen Hyde, who is best known for her colour etching process and woodblock prints which echoed the portrayal of Japanese women and children. Around about 1917, Smith undertook an intense study of Japanese colour woodblock prints, largely from the ukiyo-e school, which had been collected by her cousin, the Harvard professor Motte Alston Read. Motte Alston Read built up a collection of almost four hundred Japanese woodblock prints during the first two decades of the twentieth century, working meticulously to assemble a group of prints that were representative of the history of Japanese woodblock printing. She also began to teach etching during the 1920s, and one of her most famous students was Elizabeth O'Neill Verner.
Smith catalogued the collection and, began trying out with actual blocks and she taught herself how to print in the traditional Japanese manner. She managed to produce a body of work which was characterized by sophisticated design and yet retained a sense of tranquillity. In 1923 Smith helped the founding of the Charleston Etchers Club, a collaborative group that jointly acquired a press and shared expertise and criticism. However, by the late 1920s Smith gave up her work in prints and began to concentrate on watercolour.
Branford-Horry House by Alice Smith
Alice Smith is probably best remembered for her scenic views of Charleston streets and in 1917 she produced a beautiful graphite sketch of one of Charleston's famous buildings, the Branford-Horry House. The house was built for William Branford, a wealthy planter, in 1765-67 and is rated one of Charleston's finest examples of a three-story brick Georgian townhouse, or "double house." In 1801 it was purchased by Thomas Horry, who had married Branford's daughter. His son, Elias Horry, president of the South Carolina Canal and Railroad Company, inherited the house and altered it somewhat. The house is a three-story Georgian brick building with stucco-covered walls. Unfortunately, in 1988, a speeding car crashed into the house, knocking out two of the columns and sending one into the front door of the house.
St Phillips Church Spire by Alice Smith
Another graphite on paper sketch of a Charleston building is Alice's depiction of St Philip's church spire. St. Philip's is the oldest congregation in the United States south of Virginia. The church was built in 1836 and the spire completed in 1850. On November 7, 1973, it was added to the National Register of Historic Places and designated a National Historic Landmark.
House Tops View from her home, 69 Church Street Charleston by Alice Smith
Alice Smith became so interested with the old buildings of Charleston that in 1917 in collaboration with her father, Daniel, she had a book published, The Dwelling Houses of Charleston, South Carolina, in which the authors demonstrate how the fashions of its architecture, often brought over from England, have maintained local characteristics and resulted in a distinctive style.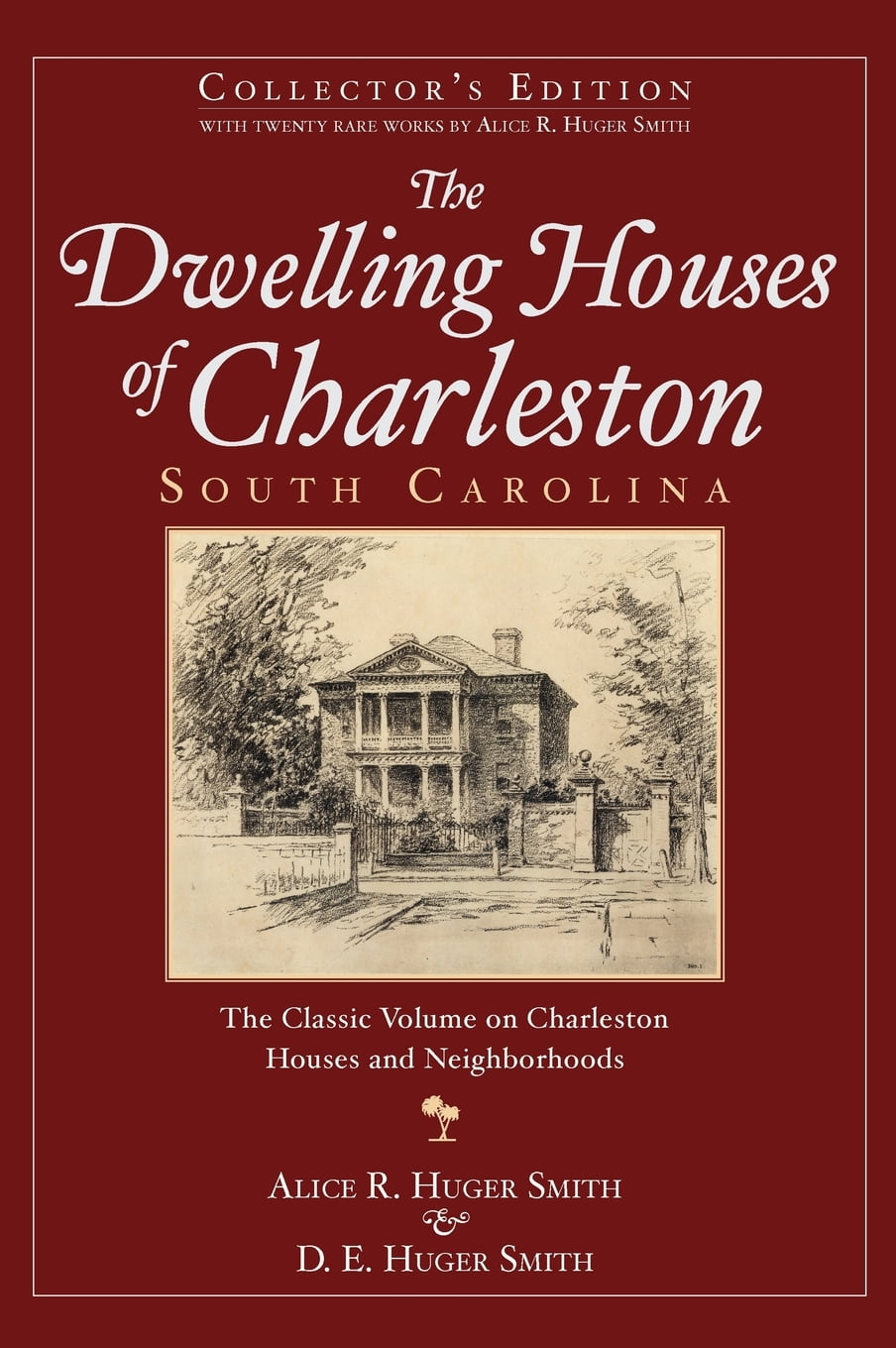 For Alice and her father, it had not simply been their object to list or to describe these dwelling houses after the manner of a guidebook, but to show how the fashions of its architecture, though imported and constantly modified by new ideas brought chiefly from England, had yet maintained local characteristics, resulting in quite a distinctive style which has steadily persisted and been developed.
The Winter Vegetable Garden from the series A Carolina Rice Plantation of the Fifties by Alice Smith (c.1935)
However, Alice Smith is best known for her lyrical and expressive depictions of the Carolina Lowcountry, the cultural region along South Carolina's coast, including the Sea Islands. It was once known for its slave-based agricultural wealth in rice and indigo, crops that thrived in the hot subtropical climate, and is known now for its historic cities and communities, natural environment, cultural heritage, and tourism industry. Smith summed up her love of the area saying:
"…my own lovely flat country of rice fields, of pinewoods, of cypress swamps, of oaks, lotus, and all their attendant feathered folk would yield me a full harvest if diligently spaded…"
Sunday Morning at the Great House from the series A Carolina Rice Plantation of the Fifties by Alice Smith (c.1935)
Around about 1924 Alice Smith changed her favoured painting medium and resorted to working with watercolours. After experimenting with oil paints and printmaking, Smith eventually settled on watercolour in which she would work for the rest of her life. The reason being she said was that watercolours were most conducive to achieving the atmospheric effects she sought in her landscapes. Her landscape depictions are generally devoid of figures as she wanted to concentrate on the beauty of nature itself. Many of her mature watercolours depict scenes from rural salt marshes.
Mending a Break in a Rice-Field Bank from the series A Carolina Rice Plantation of the Fifties by Alice Smith (c.1935)
Alice Smith was also a noted illustrator, and contributed illustrations to two volumes her father, the historian Daniel Smith, who wrote about the history of Charleston and its architecture, as well as other books relating to South Carolina, most notably the 1936 book, A Carolina Rice Plantation of the Fifties, which contained thirty paintings in water-colour, by Alice Huger Smith, and a narrative by Herbert Ravenel Sass, with chapters from the unpublished memoirs of her father Daniel Huger Smith.
A Winter Field Still in Stubble from the series A Carolina Rice Plantation of the Fifties by Alice Smith (c.1935)
Alice was also engrossed in recording vanishing ways of life in South Carolina and her best-known work is the series of thirty watercolours known as her Rice Plantation Series which can be seen at the Gibbes Museum of Art in Charleston's Historic District. She donated the Rice Plantation Series to the Gibbes in 1937. Alice was able to pictorially tell the history of plantation life in the antebellum South, and by doing so, she took it upon herself to preserve that period in a series of nostalgic images that would be accompanied by her father's memoirs and an essay on rice cultivation by the historian Herbert Ravenel Sass. Alice made these plantation paintings during the height of the Jim Crow era, when black people in Charleston and throughout the country were subjected to humiliating discrimination and life-threatening abuse. She was well aware of this as she, a single woman, lived in downtown Charleston, close to areas of extreme poverty, surviving only through the sale of her art. As I said at the beginning, this period was in the 1930's when Charleston was a city in limbo. Gone were the days of the glorious affluence of the rice years with its economic revival still years away. It was a time for those who lived in Charleston to hanker for the "good old days" and like to remember when times were relatively calm, when blacks knew their place and white planters were firmly in charge, when life for the privileged class was simple and wealth abundant. In Alice Smith's 1950 autobiography, Reminiscences, she wrote about change:
"…Small places and big places alike show it. Perhaps small happenings show it as sharply as great events, and one looks with surprise at the differences that one never noticed during the endless moments of what might be called trivial evolution…"
The Grove of Oaks from the series A Carolina Rice Plantation of the Fifties by Alice Smith (c.1935)
Her series of watercolours reflect her sense of change, and her profound nostalgia. Maybe it was a nostalgic view of plantation life of the past but maybe it was pure fantasy but one has to remember paintings were made to be sold and maybe the public preferred this "happy plantation life" image rather than the cruelty that existed and by studying her depictions the public it probably helped people believe that the past was lovely.
A Visit from the Old Mistress by Winslow Homer (1876)
Almost sixty years before Alice Smith's Plantation series the great American painter Winslow Homer created his 1876 work, A Visit from the Old Mistress, a picture depicting an idealised situation when blacks as freed slaves and living in a ramshackle cabin were shown as mixing happily with a white person, their former mistress of the "big house" who, until recently, owned them. It represented a scene from the present, a meeting of different classes and colour which caused an inevitable awkwardness when it was exhibited.
Woods at River Bend on Wando River, by Alice Smith (c. 1936)
Alice Smith donated the Rice Plantation Series to the Gibbes in 1937, and since that time the watercolours have been among the most popular works owned by the museum. The problem however was that the delicate works on paper were slowly deteriorating due to the acidic boards mounted to the back of each of the paintings. The acid then began to discolour the works and deposit on them brown spots known as foxing and with many of the watercolours, the damage was well advanced.
At the Head of the Valley by Alice Smith
The management of the Gibbes, realised the need to intervene, reverse the damage, and prevent future damage through professional conservation of Smith's entire series of watercolours. To accomplish this, they established the Welsh-Blakely Fund, a substantial financial commitment that funded the five-year conservation project carried out by the Straus Center for Conservation at the Harvard University Art Museums.
Along the Beach by Alice Smith (c.1926)
Like many other leading painters from the Southern states of America during the early twentieth century, Alice Smith had a steadfast belief in the South, which was both idealized and energetically favourable, but this was simply down to her love of where she lived. Smith was at the centre of Charleston's artistic reawakening during the early twentieth century.
Alice Ravenel Huger Smith died on February 03, 1958, aged 81 and is buried at Magnolia Cemetery in Charleston.