Harold Harvey (1874 – 1941)
My featured artist today is one of the famous Newlyn School painters. The term Newlyn school applies to a group of artists who settled in Newlyn and St Ives in the late nineteenth century and whose work is characterised by an impressionistic style and embodies subject matter drawn from scenes of rural life.   It was founded by a group of artists led by Stanhope Forbes. who came to Newlyn in West Cornwall in 1884 and was immediately captivated by the scenery and people in the area. The 'Newlyn School' became famous for its superb realism, in 'Plein-Air' painting.  The artist I am looking at today, Harold Harvey, made his name for his beautiful works featuring the Cornish countryside.
The Old Slip, Newlyn by Harold Harvey
Harold Charles Francis Harvey was born on May 20th 1874 in North Parade, Penzance, Cornwall.  He was the eldest of eight children of Francis McFarland Harvey, a bank clerk, and Mary Bellringer whom he married in September 1872. Harold had six brothers, Percival George Harvey; Frank Harvey; Arthur William H Harvey; Wilfrid Vignes Harvey; Leonard Harvey, and Cyril Harvey along with one sister, Gladys Maud Harvey.  Harvey trained in painting at the Penzance Art School under the tutelage of Norman Garstin, an Irish artist, teacher, art critic and journalist associated with the Newlyn School of painters. After leaving the Penzance Art School at the age of nineteen, William travelled to France and attended the Académie Julian in Paris between 1894 and 1896.
Unloading the boats, Newlyn Harbour by Harold Harvey (1906)
In the early part of the twentieth century, Harold Harvey's paintings were impressionistic in style and the depictions focused on people involved in the agricultural and fishing trade. 
In the Whiting Ground by Harold Harvey (c.1900)
One such work was In the Whiting Ground which he completed around 1900 and depicts a small dinghy at sea with a young man standing holding a fishing line in his hands while an older man is holding a line in the water.  St Michael's Mount the tidal island in Mount's Bay, a large, sweeping bay on the English Channel coast of Cornwall, can be seen in the far distance.
Whiffing in St Mount's Bay by Harold Harvey (c.1900)
A small painting completed around the same time by Harvey featuring three young men in a boat had the strange title of Whiffing in St Mount's Bay.  Whiffing is a mode of fishing with a hand line.
The Seaweed Gatherers by Harold Harvey
Another of his paintings depicting life along the Cornish shoreline was one entitled The Seaweed Gatherers in which we see two men hauling a horse and cart laden with fresh seaweed.
The Close of a Summers Day by Harold Harvey (1909)
A more colourful painting is his beautiful work of idyllic tranquillity entitled The Close of a Summers Day which he completed in 1909.  It is at the end of a hot summers day and man and beast have need of a rest and refreshment.  The young farmworkers have been tasked with taking the horses down to the river for them to cool down and have a drink.  The white horse gently splashes in the water attempting to cool down its fetlocks.
From 1909 to 1913, Harvey was an Associate of the Royal Cambrian Academy of Art, Conwy and, in 1910, he became a member of the South Wales Art Society.
Gertrude Harvey by Harold Harvey
It was around this time that Harold Harvey met Gertrude Bodinnar.  She was born in 1879 and was the eighth of the ten children born to Ann Crews Bodinnar, (née Curnow), and her husband John Matthews Bodinnar, a cooper.  In her twenties, she acted as a model for students at the Forbes School of Painting, which had been founded in 1899 by Stanhope Forbes and his Canadian-born wife Elizabeth as their School of Painting and Drawing at Newlyn. It was indirectly through her work with students at this establishment that she first met Harold Harvey and agreed to act as his model.  Love blossomed and Harold and Gertrude married on April 19th 1911 and the couple set up home at Maen Cottage Elms Close Terrace, in Newlyn
Portrait of the Artist's Wife, Gertrude by Harold Harvey (1917)
Gertrude appeared in a number of her husband's paintings.  One example was his 1917 portrait of her entitled Portrait of the Artist's Wife, Gertrude……
….and Gertrude Harvey with Parrot in the Artist's Home……
…..and The Red Silk Shawl in 1932.
Being around artists, including her husband, and watching them work fascinated her. She would often note down how the artists worked, and she soon realised that she had a talent for art and design.  Gertrude used mostly oil on canvas, board, card, or paper, but also tempera, gouache and though largely self-taught she became a talented artist in her own right, and her paintings were mainly of still-lifes, flowers and landscapes.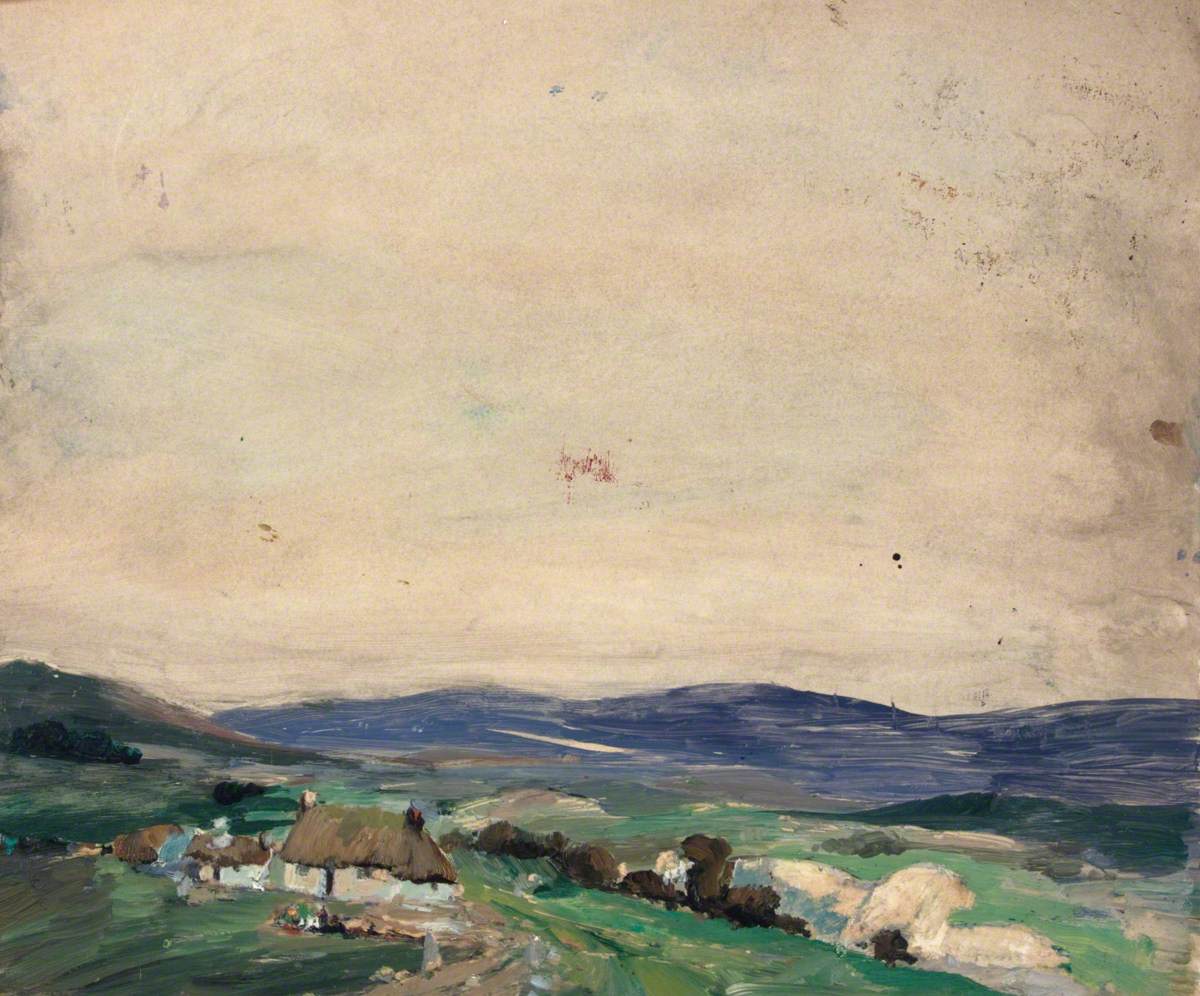 Landscape by Gertrude Harvey
Her paintings were good enough to be sold and exhibited at the Newlyn Art Gallery and in the twenties and thirties her work could be seen in many London galleries including the Leicester Gallery and the Royal Academy. Often, she showed work together with her husband in mixed and group shows.   Between 1930 and 1949, Gertrude Harvey had twenty works selected for Royal Academy exhibitions and from 1945 to 1949 she was regular exhibitor with the St Ives Society of Artists.  She was also proficient at needlework and clothing design.
Reflections by Harold Harvey (1916)
Meanwhile Harold Harvey continued painting and exhibiting his work. The First World War began in 1914 but due to health issues, he was exempted from military service.  In that year, he started to paint a series of interiors often using his own home.  One such painting was his 1916 work entitled Reflections.
The Critics by Harold Harvey
In another work entitled The Critics, we see three women enjoying coffee and an aperitif as they study some paintings, weighing up the merits of each one.
The Tea Table by Harold Harvey (1920)
A depiction of domestic living can be best seen in Harold Harvey's 1920 painting entitled The Tea Table.  It is a masterful depiction of a small dining room filled with shelves of crockery and ornaments.  It could almost be termed a still-life of household goods.
Girl on a Cliff by Harold Harvey (1926)
With such wonderful landscapes on his doorstep, it is no wonder that Harvey continued with his outdoor works featuring young models.  One example of this is his 1926 painting entitled Girl on a Cliff.  In a way, this is not a true plein air painting as the girl in the depiction is fourteen-year-old Cressida Wearne and Harvey painted her posing in the garden of his studio and he added the background at a later date.
Clara by Harold Harvey (1922)
Again, we see this technique with his 1922 painting, Clara.  It is a full-length portrait of a girl standing by a wall set in a rolling landscape.  She is seen holding a rose and in several of Harvey's portraits his female sitters are holding a single flower. The work is composed mainly of tones of grey and brown but it is the red of the rosebud which creates the focal point of the work.
Portrait of James Jewill Hill by Harold Harvey (1920
Harold Harvey completed a number of portrait commissions, such as his 1920 portrait of the youngest son of James Jewill Hill, a partner in the solicitors firm Jewill Hill & Bennett, Penzance.
Another portrait he completed was a 1938 commission to paint a portrait of John Humphreys, Professor of Dentistry.
In 1920, Harold Harvey and fellow Newlyn School artist, Ernest Procter, founded the School of Painting, in Newlyn, called the Harvey-Procter School, which ran throughout most of the 1920s. 
Harold Harvey died in Newlyn on 19 May 1941 and was buried in Penzance at the St Clare Cemetery. His wife, Gertrude, lived in their cottage until 1960 when she moved into the Benoni Nursing Home in St Just. She died six years late, aged 86.