Bertha Wegmann . Photographed by Georg Emil Hansen (1891)
Bertha Wegmann was one of the first professional female Danish painters. Her work was very popular during her lifetime and she was much sought after as a portrait artist. Without doubt, she is one of the most noteworthy painters of the Danish Realism movement. Some art historians would have us believe that after the famous Danish portrait painter Peder Severin Krøyer, who died in 1909, Wegmann became the acknowledged leader of portrait painters in Denmark, among both genders. She went on to complete numerous portraits of the celebrities of her day along with many paintings of her family and friends. Although renowned for her portraiture she also painted landscapes, still life, and genre scenes.
Portrait of Marie Triepcke. by Bertha Wegmann (1885)
In 1885 Bertha completed a portrait of Kroyer's wife, Marie Triepcke Krøyer Alfvén, more commonly known as Marie Krøyer, also, like her husband, a talented Danish painter. The portrait was entitled Portrait of Marie Triepcke.
Portrait of an Elderly Gentleman by Bertha Wegmann
Another Skagen painter, Vigo Johansen, was thought to be the model for Wegmann's portrait, Portrait of an Elderly Gentleman.
Portrait of a Girl by Bertha Wegmann (1880)
Bertha Wegmann, who was of German ancestry, was born in the small village of Soglio, in south-east Switzerland on December 16th, 1846 to Eberhard Ludwig and Cathrine Wegmann. At the age of five the family moved to Denmark but sadly, five years after that move her mother died. As a child, Bertha showed an interest in drawing and her father, who was a merchant, and who was also an accomplished amateur painter, encouraged his daughter to paint. Because of schoolwork and having to help her father run the family home she had no time to enrol on an additional art course. In fact, it was not until she was nineteen years of age that she began her formal art studies.
Young Woman with a Child in the Garden by Bertha Wegmann
In 1867, aged twenty-one, funded by her father, she travelled to Munich and enrolled at the Munich Academy of Fine Arts, with the intention of becoming a painter of historical subjects and whilst in Munich her tutors included Wilhelm Lindenschmit the Younger, the German history painter and the Austrian genre painter Eduard Kurzbauer. Although her artistic technique flourished rapidly, she, like many aspiring young artists, found herself discontented with the old-fashioned academic ambiance of the Munich academic establishments. It was a time of change in the art world with the arrival of the French Impressionists. In Italy, a group of Italian painters active in Tuscany in the second half of the nineteenth century had offered an alternative to the antiquated conventions taught by the Italian art academies and urged artists to carry out much of their painting en plein air so as to capture natural light, shade, and colour.
The Danish Artist Bertha Wegmann Painting a Portrait by Jeanna Bauck
It was whilst studying in Munich that Bertha Wegmann met fellow aspiring artist Jeanna Bauck. She was the daughter of a German-born composer and music critic Carl Wilhelm Bauck and a Swedish mother, Dorothea Fredrique. She was six years older than Wegmann. She had moved to Germany to study painting, first in Dresden and then in Munich. They immediately became great friends and for many years would share their home and studios in Munich and Paris. It was in their Munich studio, around 1879, that Jeanna completed a portrait of Bertha Wegmann entitled Den danska konstnären Bertha Wegmann målande ett porträtt, (The Danish Artist Bertha Wegmann Painting a Portrait). The setting was their studio and, at the side of which, was a window that allowed natural light to stream through and illuminate the room.
Målarinnan Jeanna Bauck by Bertha Wegmann (1881)
Bertha and Jeanna went together on painting trips including many journeys to Italy. In late 1880, Bertha and Jeanna moved to Paris and again shared a studio. Bertha Wegmann painted almost twenty portraits of her friend, the best known of which is her well-known portrait entitled, Målarinnan Jeanna Bauck which she completed in their Paris studio. In the painting we see a smiling Jeanna gazing out at us. She is sitting slightly forward, book in hand, with a smile on her face. Her friend has portrayed her with great honesty and charisma. In the portrait, Bertha has managed to effectively juxtapose the impression of an uninhibited, independent type of woman with the stylishness of the middle-class woman. Besides Jeanna we see the tools of her career such as brushes, a palette and painting rags. The book held in her hand symbolises her character as an intelligent woman. If we look closely through the window in the background we can just make out the rooftops of Paris.. Jeanna Bauck returned to Munich in 1882, where she founded a painting school for female artists. Later, around the turn of the century she also taught at the Verein der Berliner Künstlerinnen painting school, an influential organisation for female artists, which continuously offered drawing and painting courses in Berlin.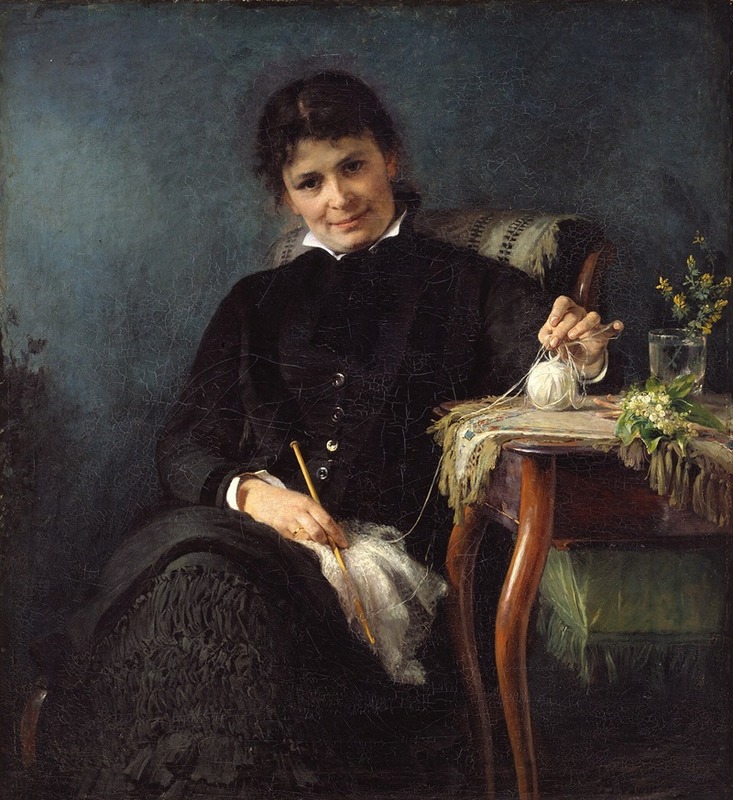 Bertha Wegmann exhibited at several Salons and received an "honourable mention" in her first Salon in 1880 and a gold medal in 1881. She left Paris in 1882 and returned to Copenhagen, where she was already renowned for the works she had sent home and had exhibited at the Royal Danish Academy of Fine Arts in Copenhagen. In 1883 her submission for the annual exhibition at the Charlottenborg Palace was a portrait her sister, Anna, entitled Madam Anna Seekamp, the Artist's Sister. For this painting the Royal Danish Academy of Fine Arts awarded her the Thorvaldsen Medal. The award was one of the highest honours conferred in the Danish art world and Bertha was only the second woman to win this accolade. The enchanting painting depicts her sister with her knitting in hand. Her facial expression is one of sweetness, even playfulness. In this work, Bertha has shown her mastery at conveying both likeness and complex human expressions.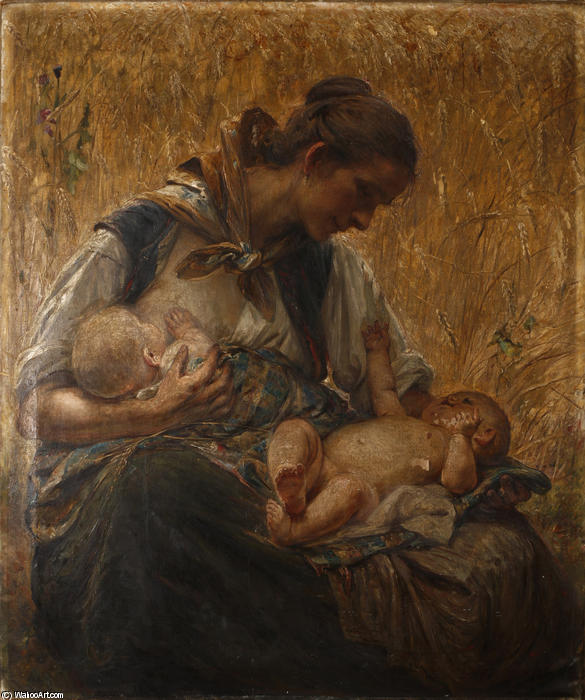 After Bertha received the Thorvaldsen's Medaille at Charlottenborg in 1883, she became the first woman to sit in the Academy's Plenary Session. At the same time, she took part in many large official exhibitions throughout Scandinavia and Europe and at the Exposition Universelle of 1889 in Paris and 1900 and she also represented Denmark at several world's fairs, including the famous World Columbian in Chicago in 1893 also known as the Chicago World's Fair. In 1895 her work appeared at the landmark Kvindernes Udstilling fra Fortid og Nutid (the Women's Exhibition from the Past and Present) held in Copenhagen. It was an art and culture exhibition for women from the Nordic countries.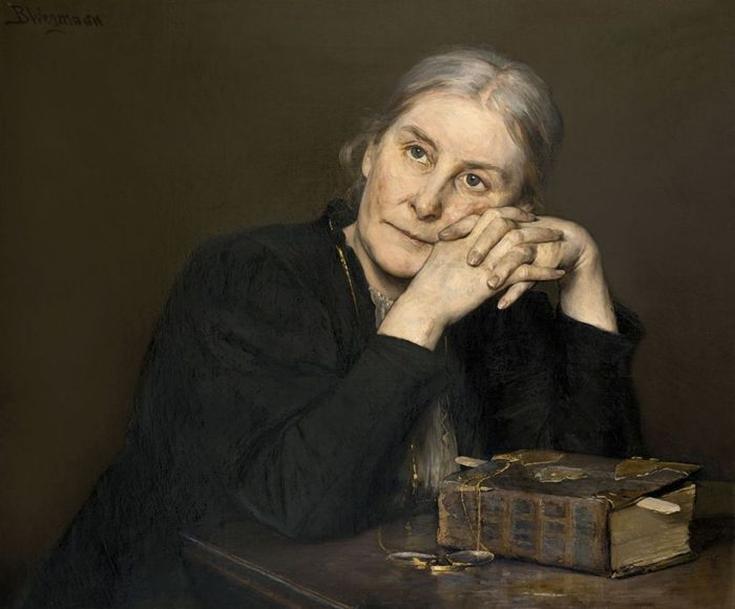 In 1897 Bertha Wegmann became the first woman to hold a chair at the Royal Danish Academy of Fine Arts. From that year through to 1907, she was a member of the board for the "Tegne- og Kunstindustriskolen for Kvinder" (Drawing and Art Industrial School for Women). In 1892 she became one of the first women to receive the royal Ingenio et Arti medal. The award is given to artists (musicians, painters, actors and scientists) who have done extremely noteworthy work. It is a Danish medal awarded to prominent Danish and foreign scientists and artists.
On February 22nd 1926, after a very long life of constant artistic success, Bertha Wegmann died suddenly, aged 78, while working in her studio. She will be remembered as someone who achieved an unparalleled career at a time when it was especially difficult for a woman to forge any kind of independent life. She was both determined and hard-working, but she also had a calm and caring nature. She was a multifaceted person who forged trails, broke stereotypes and cracked so many of the glass ceilings of her time. She must also be remembered as a popular and loyal friend to many, a loving sister and a zealous champion of other artists, especially women artists.