Thomas Cooper Gotch
Sometime in 1878 their reading group, set up by Thomas Gotch, had a new member. Her name was Caroline Burland Yates. Caroline was one of three sisters born to Esther Burland and wealthy property owner, Edward Yates. The family was from the Liverpool area, later moving to Sway in Hampshire. Caroline was the youngest of the three daughters and educated by a governess. Caroline attended finishing school in Switzerland where she became fluent in French. She, like Thomas Gotch, had studied at the Heatherley School before arriving at the Slade.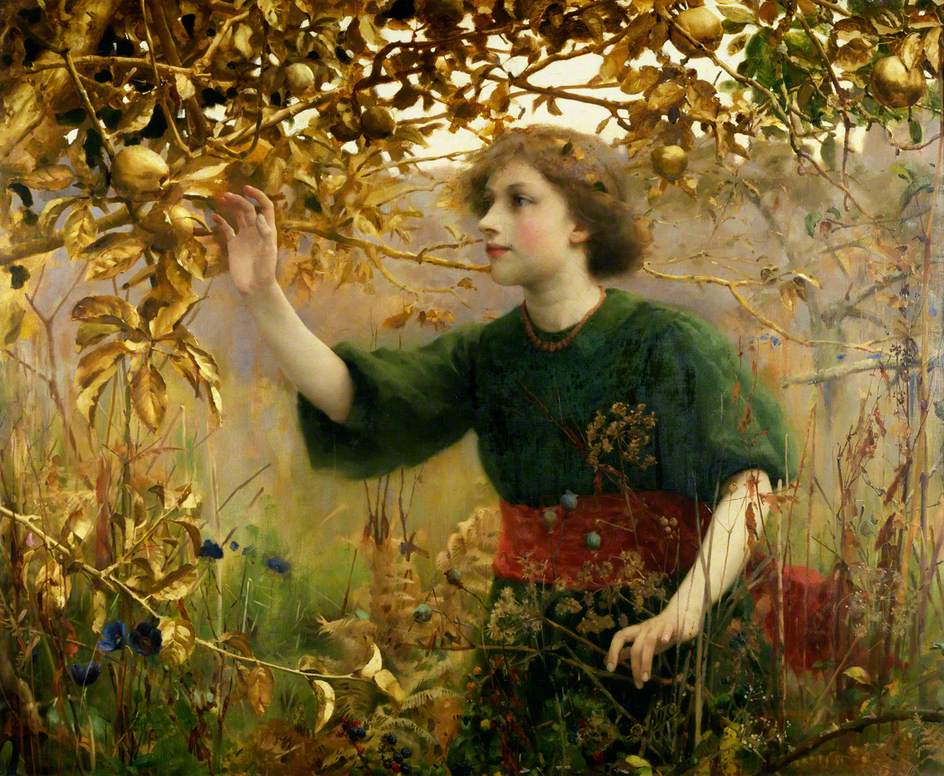 Thomas' progress at the Slade was outstanding and he was the firm favourite of his principal lecturer, Alphonse Legros, the French-born painter who later took British citizenship.  During his first year at the Slade, Gotch produced many paintings and sketches which were sold at exhibitions in London.  One of Thomas Gotch's closest friends at the Slade was fellow artistic aspirant, Henry Tuke. Through his friendship with Henry Tuke Thomas met other members of the Tuke family and became friendly with his sister Maria Tuke and medical student brother William Tuke.  Thomas was asked by William, and some of his fellow medics, to help form a group of art and medical students which would become a friendly debating society.  Thomas, who was extremely popular with the female students at Slade, and so, was asked to entice some "beautiful but well educated" young women into joining the society. 
Many agreed to join, two of whom were the Santley sisters, Edith and Gertrude as well as Carrie Yates.  Thomas Gotch's close friend, Henry Tuke, depicted these three in his famous work entitled The Misses Santley which was shown at the Royal Academy.  It shows the influence of Henry Tuke's Slade professor, Alphonse Legros who encouraged his students to study the works of the Old Masters.  Frederic Leighton, then president of the Royal Academy, is reported to have said: "Can it be an old master? It could not be by a young man."    The work depicts three women who were all fellow students of Thomas Gotch and Henry Tuke at the Slade.  The young woman on the right, holding a music score, is Edith Santley, the daughter of the famous baritone Charles Santley.  Next to her is her sister Gertrude, and in front left of the painting stands Carrie Yates, who would later marry Thomas Gotch.
During the summer of 1879 Thomas Gotch and Harry Tuke went on a painting trip to Cornwall, visiting Penzance and Newlyn, where they were joined by Caroline Yates and her sister Esther. The following summer Thomas Gotch and his sister Jessie spent part of the summer in the small North Wales coastal town of Beaumaris on the isle of Anglesey meeting up with Willie and Maria Tuke. In October 1880 Thomas Gotch left England and arrived in Paris where he lodged at the Hotel d'Angleterre for a month whilst he negotiated his entrance to John Paul Laurens' atelier. In the meantime, in fact a month earlier, Carrie Yates along with two fellow art students, Jane Ross and Alma Broadridge had travelled to Paris and enrolled at the Académie Julian.
Thomas Gotch was influenced by the historical works of Laurens as he was interested in figurative painting. His other overwhelming interest was also Carrie Yates. They had become remarkably close and she was teaching him French. She was lodging at the Hotel de Paris and Thomas had an apartment on the top floor of a building at 17 rue de Tournon. Although it was a Bohemian establishment, the rooms were spacious. Thomas and Carrie visited the artists' colony at Barbizon. The relationship between the two became ever stronger and before he returned to London to submit a painting for the Academy exhibition, he proposed marriage.
Thomas and Carrie travelled back to England in July 1881 and visited each other's families to get the parental permission to marry.  Carrie had spent the summers of 1879 and 1880 in Newlyn and loved the place.  The couple decided that Newlyn in Cornwall should be the setting for their marriage and so they both travelled there and secured separate lodgings.  Twenty-six-year-old Thomas Cooper Gotch and twenty-seven-year-old Caroline Burland Yates married on August 31st 1881 at St. Peter's church which was built in 1866 and nestles underneath Tol Carn, the ancient pile of rocks associated in Cornish legend with Bucca-boo, a male sea-spirit in Cornish folklore, a merman that inhabited mines and coastal communities as a hobgoblin during storms and who was said to steal the nets of fishermen.
The newlyweds honeymooned at Mullion, a quiet village on the Lizard Peninsula in south Cornwall. Once the honeymoon was over Carrie returned to London. Prior to her wedding she had been sharing a house with her sister, Esther (Ess) and now she needed to take back to Newlyn her share of the furniture. Meanwhile Thomas Gotch had begun painting scenes of Newlyn and became friends with three Birmingham painters, Walter Langley, Edwin Harris and William Wainwright. Thomas Gotch and his depictions of Cornish life thrived and maybe it was marriage that buoyed his love of the area.
In October 1881, Caroline and Thomas returned to Paris.  Thomas returned to the Laurens atelier and Carrie went back to Académie Julian where there was a separate atelier for women.  Thomas also engineered the acceptance at the Laurens atelier of his friend Harry Tuke.  That Christmas was spent in Paris but the couple returned to England in time for Easter 1882.   During that three-month period Thomas Gotch worked on a portrait of his wife, entitled Portrait of Madame G, which he presented and was accepted at the April 1st 1872 Salon.  This life-sized portrait of his wife depicts her dressed in a dark navy dress with gold and white cuffs and collar.   Thomas never put the painting up for sale and it adorned the walls of the houses they resided in.
One of the reasons the couple returned to England that April was for Carrie to consult her doctor and have it confirmed that she was pregnant with her first child and to break the good news to their family members.  Their visit to England was only short but gave them time to employ a nurse for when the new baby arrived.  They all returned to France and rented a small property at Marchand de Bois, Brolles which was owned by a wood merchant.  It was a good-sized house for the young couple and access to half of a large garden.  Brolles was an idyllic spot situated in a very rural area and the nearby landscapes coupled with the fine summer weather allowed them to paint en plein air.  The young couple had domestic help with a young French maid, Marie, and Windsor, the English nurse who looked after Caroline during her pregnancy.
Phillis Marian Gotch was born in Brolles on September 6th 1882.  It is thought the name "Phyllis" came from the fact that Thomas' first painting to be exhibited at the Royal Academy was entitled Phillis and the name "Marian" derived from a character of that name (a pseudonym for his wife), who was a character in his fictionalised novel A Long Engagement.
In late September Thomas and Carrie had to quickly return to England with nurse Windsor as she had told them that she could no longer put up with life in France and they needed to replace her. They left Brolles leaving the maid Marie in charge of the house. Their stay in London had to be quickly curtailed when Thomas and Carrie received a letter from their French landlord telling them that Marie and her friends were leading a riotous lifestyle in their house during their absence !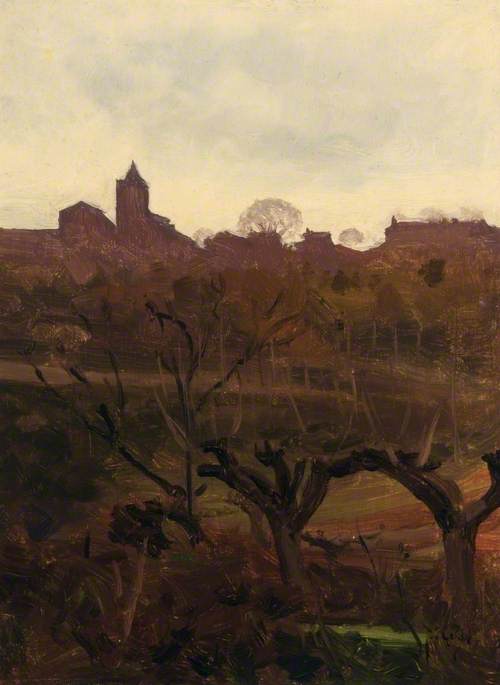 Although the quiet picturesque landscape around the village of Brolles offered Thomas Gotch the ideal vistas for his paintings there was a problem in finding suitable models from within the village and eventually he and Carrie decided they must give up their rural idyll and return to the French capital where it would be easier to find models for his paintings. So, in February 1883 the couple were once again living in Paris, Thomas returned to the Laurens atelier and Caroline to the Académie Julian.
Life in France ended for Thomas and Carrie when she became ill with a serious lung infection. The couple and their daughter returned to England where they received a second opinion from a London specialist. He confirmed the diagnosis and Carrie was told she had to rest. Their daughter Phillis was taken to Thomas' parents who began to look after her along with the re-hiring of their first nanny, Windsor. Thomas took Carrie to Newlyn that summer to give her a chance to recuperate whilst he continued to paint depictions of the Cornish fishing village. Carrie's breathing problems slowly lessened, probably due to the clean and fresh sea air of the Cornish coast and soon she was able to walk freely. By the end of the summer Carrie had recovered her health and the couple returned to London where the specialist gave her a clean bill of health.
…………………………………to be continued.