Today I am looking at a family of artists who specialised in painting moonlight scenes, so much so they were known as the Moonlight Pethers.  This is a story about Abraham Pether and his two sons Henry and Sebastian who lived and worked in Southampton, England in the late 18th and early 19th Centuries.
Abraham Pether, the patriarch, was a landscape painter who was born at Chichester in 1756. He was the cousin of the notable engraver, William Pether. He could have been a professional musician as at the tender age of nine, he showed a great talent for music, and played the organ in one of the Chichester churches. However, his main love became art and he received artistic training from George Smith, an English landscape painter and poet.  Within a short period of time the talent of the pupil matched that of his master.
A moonlit view of the River Tweed with Melrose Abbey in the foreground and figures on a bridge by Abraham Pether
Abraham painted river and mountain scenery, incorporating classical buildings, in an attractive though artificial style.  Some compared his work with the great Welsh landscape painter Richard Wilson.  However, Abraham Pether will be remembered for his moonlight subjects which warranted him the moniker, 'Moonlight' Pether.
Moonlight Scene by Abraham Pether (c.1790)
His moonlight pieces are notable for their astronomical accuracy. He exhibited at the Royal Academy in 1784, his subject being "Moonlight."
Moonlight Scene with Windmill by Abraham Pether (c.1780)
The Night Blowing Cereus (flower painted by Philip Reinagle, (moonlit background by Abraham Pether)
Abraham also collaborated with other painters who needed a moonlight background to their painting. One example of this is his collaboration with Philip Reinagle RA, an English painter of animals, landscapes, and botanical scenes. Reinagle's painting was entitled The Night Blowing Cereus and Abraham's moonlight background added authenticity to the work.
God's House Tower by Moonlight by Abraham Pether
Close to Abraham's birthplace, Chichester, is the city of Southampton. One of Abraham Pether's paintings featured a night scene featuring the 13th century God's House Tower, a gatehouse, which leads into the old town. It stands at the south-east corner of the town walls and permitted access to the town from the Platform and Town Quay. It is now an arts and heritage venue. In its former days it had served as the town gaol and housed the Museum of Archaeology. The building is Grade I listed and a scheduled ancient monument. The buildings which form modern-day God's House Tower are some of the earliest in Southampton. The name God's House comes from the nearby hospice and it was built around 1189 as a resting place for travellers and pilgrims en-route to Canterbury. The original gate was built around 1280, to give access to the Platform Quay as well as to the walls on the east at a high level, useful for any patrols or at times of attack. Running along the eastern walls was a double ditched moat, up to 40 feet wide, which was fed by sea water operated by a sluice at the Platform Quay. The ditches were important not only for defence but also because they also provided water-power for one of the town's main mills which was built adjacent to God's House Tower.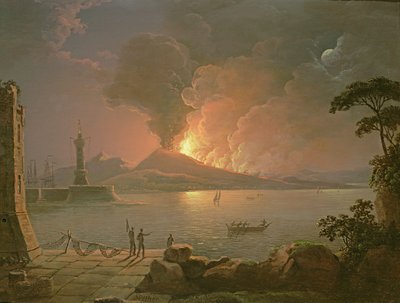 A View of Mount Vesuvius Erupting by Abraham Pether (c.1810)
Abraham Pether also liked to paint depictions in which not only moonlight but fire lighted up the sky as can be seen in his painting entitled A View of Mount Vesuvius Erupting.
It was not just fire lighting up the sky by natural phenomena, that Abraham captured in some of his works of art but also devastating events of buildings burning such as his painting entitled The Fire at the Old Drury Lane Theatre seen from Pimlico. In this 1809 painting we witness the destruction of Richard Brinsley Sheridan's Drury Lane Theatre in 1809, which Sheridan had completely rebuilt in 1794 with the architect Henry Holland. It is said that when Sheridan, who was in the Houses of Parliament at the time when the fire broke out, heard the news, he hurried to his theatre. Upon realising that there was little he could do to help, he sat down in the coffeehouse opposite and ordered a bottle of port, remarking rather dryly 'a man may surely be allowed to take a glass of wine by his own fireside'. It is a work of Romanticism which was popular around the beginning of the nineteenth century. Abraham has cleverly balanced the light sources emanating from the moon and the fire, which adds a sense of excitement to the depiction. Another interesting fact about this depiction is that it actually shows a lost view of London as the river seen is not the Thames, but part of the River Tyburn, which now flows beneath the city, coming out into the Thames at Whitehall Stairs, near Downing Street.
Abraham Pether not only distinguished himself as painter and musician but also by his philosophical and mathematical research which were of great value. He also showed skill as a mechanic, and constructed various optical instruments, such as telescopes, microscopes, air-pumps, and electric instruments. Abraham Pether died in Southampton on April 13th, 1812.
Abraham had two artistically talented sons Sebastian Pether who was born in 1790 and Henry Pether who was born on March 5th, 1800, both of whom became landscape artists who, like their father, became known for their moonlit scenes.
In Henry Pether's painting, Houses of Parliament from the Thames by Moonlight we see Westminster Bridge straddling the River Thames with the Houses of Parliament on the right bank. By the mid-19th century Westminster Bridge was subsiding badly and expensive to maintain and so was replaced by the current bridge, which was designed by Thomas Page and opened on 24 May 1862. As Henry Pether died in 1865, we know the painting had to be completed sometime between those three years. It is a fascinating depiction of the endless work on the river even during the night with barges and rowing boats plying their trade. Note the gaslights illuminating the bridge. During these years air pollution was very bad, day and night, and this is depicted by the smoky and murky appearance.
Henry Pether's work, View of Windsor Castle looking at the Lowe Ward by Moonlight, demonstrates how Henry Pether's portrayal of the romantic quality of light makes his depiction so striking. Henry preferred actual scenes, often on the Thames or in Venice, and this painting communicates the poetry and realism of his best work. As ever, Henry's palette was more sensitive and truthful to nature than that used by his father and brother, as this very fine example demonstrates.
Henry Pether's works were not all about England as he completed and excellent depiction of the canals of Venice.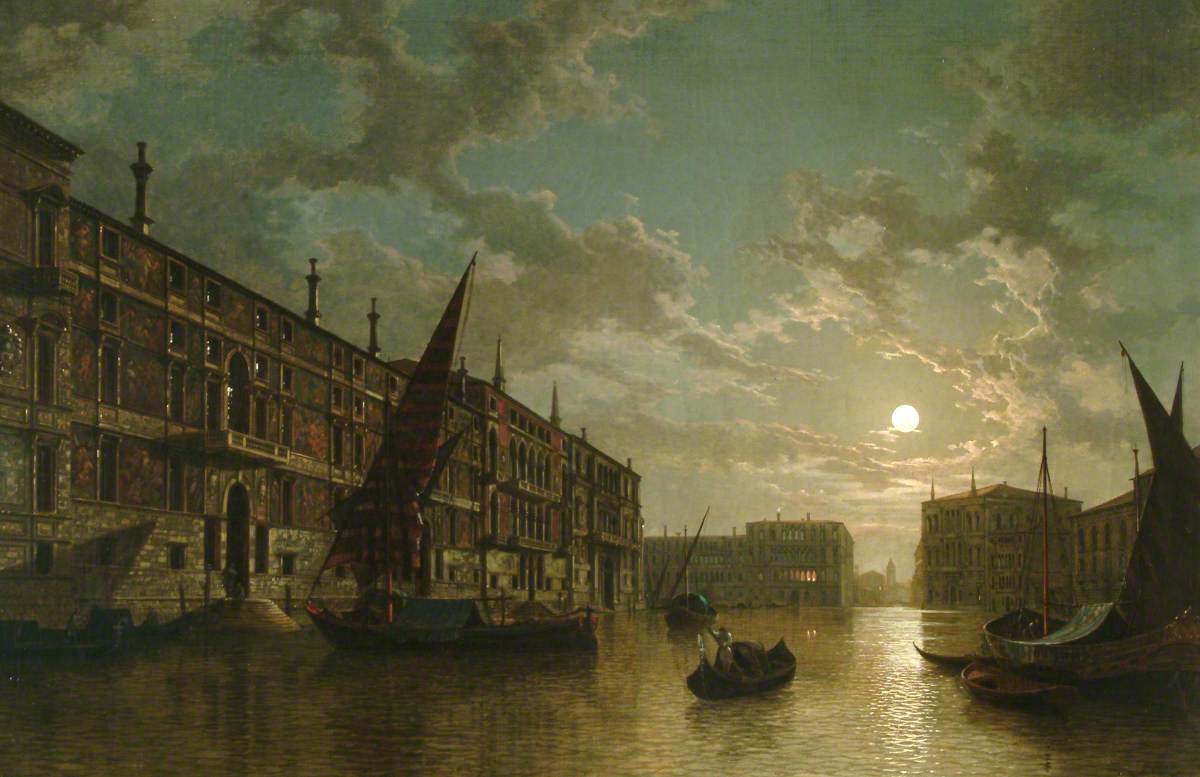 Sebastian Pether, born in 1790, was the eldest son of Abraham Pether, was also a landscape painter. He exhibited at the Royal Academy from 1812 to 1826 and at the Royal Society of British Artists at Suffolk Street, London. He had learnt his artistic ability as a pupil of his father, and, like him, primarily painted moonlight views as well as depictions of fires as seen at night. His paintings were praised for their accuracy and congruency of colour. He could have made a fortune from the sales of his work but being desperate for money to feed his family he was having to accept paltry sums from art dealers who knew of his desperate financial circumstances and wanted his work so as they may be copied and sold on.
One of Sebastian's beautiful painting is his Fishing by Moonlight. The work is painted on panel, which is a medium best suited to the fine brushwork quality, which he found necessary for this intricate work. In this painting, he has cleverly used the strong use of chiaroscuro effects of light and shade in his painting. The eye, of course, is drawn towards the full moon, which illuminates the sky and caresses the clouds. Look how the artist has created the mysterious atmosphere of the moonlit evening. He has depicted the moonlight glistening on the river below and has painstakingly depicted the buildings in meticulous detail. On the bank in the foreground we see the two night fishermen silhouetted against the calm waters.
Sebastian married very young. In the July 1884 edition of the Gentleman's Magazine there was an obituary notice regarding the death of Sebastian Pether. It said that "he married too young and too poor". To exacerbate matters his wife had nine children in a short period and Sebastian struggled to earn enough money from his art to feed his family. The art dealers who bought his paintings were aware of his dire financial situation and the obituary notice was very cutting about their role in Sebastian's life:
"…As a matter of course he soon fell into the hands of those harpies – the dealers. When once they had obtained power over him they took care to retain it; he was their victim all through life…"
Sebastian Pether's paintings always sold well but because of the low prices offered to him by dealers the money from the sale of his work was never enough to satisfy the wants of his large family. Sebastian became ill in March 1844. The illness was brief but severe and he died on March 14th 1844, aged 54. His life at the end was an unhappy one and this was set out in the Gentleman's Magazine obituary:
"…During the three last years of his life he lost three of his grown-up children by consumption; and since the demise of the father another son died at Westminster Hospital of lockjaw occasioned by an accident to the hand……………………..A subscription has been opened to help his surviving family out of their terrible state of distress…"
A truly sad ending to a great painter.