Jean-Eugène Buland was born in the French capital on October 26th 1852.  He was the son of an engraver, as was his younger brother, Jean-Émile Buland.  Jean-Eugène's artistic career began when he entered the École des Beaux-Arts in Paris in the studio of Alexandre Cabanel.  Cabanal was a renowned French artist who painted historical, classical and religious subjects in the academic style and was also well known as a portrait painter. He had been a professor at the art establishment since 1864 and was highly regarded by Emperor Napoleon III.  There can be no doubt that Buland was influenced by Cabanel's choice of subjects for his paintings and his academic painting style.   Success came early on for Buland when he gained the Deuxième Prix de Rome in 1878 and once again in 1879.  The Prix de Rome was a French scholarship for arts students, initially for painters and sculptors, that was established in 1663 during the reign of Louis XIV of France. Winners were awarded a bursary that allowed them to stay at the Villa Medicis in Rome for three to five years funded by the French government. 
On his return to France Buland soon became aware of the popularity of the French painter, Jules Bastien-Lepage, and his success with his Naturalist paintings depicting realistic themes so much so, he decided to forego his depictions of historical works and concentrate on scenes of everyday life.  Bastien-Lepage, like Buland, was also awarded the Deuxième Prix de Rome in 1875 and 1876 but declined the opportunity to study in Rome as the classical training held no interest for him although winning the prize had been a great honour.  Buland joined the Naturalist painting movement with Bastien-Lepage and found that by utilising photography it allowed him to paint his models with the most precision.
In 1880 he completed one of his best loved works, Alms of a Beggar, in which we see a young woman beautifully dressed in white sitting outside a church in search of charity. From her left, we see a man, who is a beggar himself, coming towards her with a coin held out in his right hand. His clothes are a mass of patches, and they are pale and dirty.  On his feet he wears scruffy old wooden shoes. From his demeanour he would appear sightless. It is a fascinating depiction that raises all manner of questions.  Why is the well-dressed woman begging?  Is she as poor as the man in the depiction or is Buland telling us that you do not have to be badly dressed to be poor?  Is there such a thing as inward poverty – a poverty that has nothing to do with lack of money?  Look at the painting and make your own mind up.
Three years later, in 1883, Buland completed a painting entitled Le Tripot which is a French word meaning gambling house or gambling den.  This work by Buland is one of his masterpieces.  The setting is a sleazy back-street gambling den and depicts five unsentimental-looking gamblers facing us whilst sitting at a gaming table.  The air is thick with cigarette and cigar smoke, the walls of the establishment are in need of redecoration.
To the left we see an elderly woman, probably a widow, diminutive in stature, dressed all in black. She pushes some paper money towards the pot. Looking over her shoulder is a middle-aged man. Is he just a merely a passing observer or is there more to his presence?
Next to the old woman is a man showing an air of confidence as to his ability as a gambler and yet the pile of winnings in front of him is small. He is slightly laid back and seems to be worry-free. With cigarette in hand he glances to his right.
By far the most interesting person in this group portrait is one at the centre.  An elderly man gazes out at us with an almost blank look as if he is not registering what he is seeing.  He is completely lost in his own thoughts.  Why did Buland depict him as almost having no part in what is happening around him ?
Is he just another gambler or is he the croupier as we see his wooden rake which is used to collect money from the gaming table at his side and a large pool of money which could be the "bank".
The remaining gamblers are to the right of the painting. The man with the long hair and ringlets would appear to be of Jewish origin akin to the likes of Fagan and Shylock and in a way this depiction has a sort of anti-Semitic tone to it. Before him, we see that he has accrued a large amount of winnings, which could have been Buland's thoughts on the reputation of the Jewish people's love of money. In contrast, next to him, on his left, is a young man who looks totally bemused and is certainly down on his luck. From his bored facial expression we can see he is completely resigned to losing the last of his money. Behind the pair we see a couple ladies of the night who are looking to see who is winning and thus who is worth approaching for their services.
The question as to why has Buland chosen these five main characters, four of whom are definititely gambling is questionable. Is he trying to put across his belief that all types of people fall into the clutches of gambling? The run-down setting maybe his way of not glorifying the "sport" of gambling.
If you wanted to have an artistic depiction of tenderness and young love Buland's 1903 offering of Bonheur des parents probably could not be topped.  The painting's title translates to Parental Happiness and it depicts a young man and his young wife with their newly born baby. The setting is a small room of a stone-built cottage.  It is a new experience for the couple and we can see the woman looking down at her baby as it breast-feeds.   You can see the utter tiredness in the eyes of the young mother and the nervousness in the father's expression.  It is all new to them and they are having to survive alone with the nurturing of their child. They have been given a precious gift.
Another depiction of young love was his 1884 painting entitled Mariage innocent. It is an idyllic portrayal of young happiness with its young couple walking arm in arm through fields against a backdrop of a village and blossoming flowers in the foreground. 
In 1886, Buland left Paris to settle in Charly-sur-Marne, a little village just east of the capital, in the French department of Aisne, near Château-Thierry, shunning the art scene of the French capital. From this quiet village life Buland derived inspiration from simple everyday life, which he painted with the greatest fastidiousness. His works gained popularity and he obtained many commissions including ones from a number of  art institutions, such as the Luxembourg Museum in Paris and many other provincial museums.  During these early years he submitted many of his works for the Salon des Sciences in the Paris' City Hall and some were used to decorate the ceiling of the City Hall of Château-Thierry.  His painstaking realist depictions were well-received at the Salon, where he won a number of medals.  He gained a third-class medal at the Universal Exhibition in Barcelona in 1888.  In the following year he was awarded a silver medal at the Exposition Universelle in Paris and was also awarded during the International Exhibition in London in 1890.  The ultimate honour came in 1894 when he received the Legion of Honour.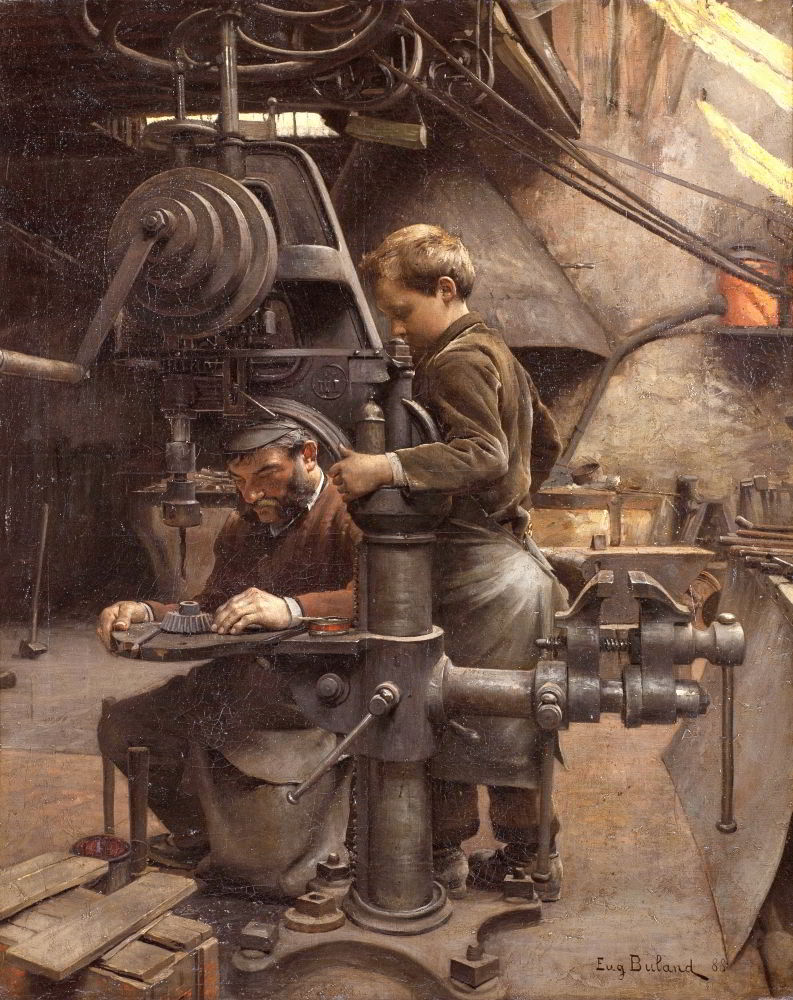 In France during the start of industrialization realist painters were often given official assignments from the state to depict themes from the new and progressive metal industry. In his 1888 painting, entitled Un Patron, sometimes referred to as The Lesson of the Apprentice, Buland used photographs as a basis for the work catching all the details of what was a combination of a smithy and a mechanical workshop. In the painting we see the head mechanic is using a drill while working on a cogwheel. The painting depiction had a political propaganda aspect to it. France had suffered after a heavy and costly defeat in the Franco-Prussian War of 1870 and the country was now striving to recover through its advances in its industry and manufacturing and the depiction of the young apprentice learning a trade in engineering highlighted the country's determination to become an industrial powerhouse.
The term ethnography is the scientific description of peoples and cultures with their customs, habits, and mutual differences.  Eugène Buland was a meticulous painter who never overlooked any details with regards to the figures populating his paintings.  He spent a great deal of time depicting their appearance and their costumes and an equal amount of time was spent on the details of the inanimate objects that completed the works.   Through his painstaking way in which he used light and shadow on his figures and on the settings, Buland paintings became true works of art. His paintings are like an everyday chronicle of life combining portraiture with genre scenes.  One good example of this is his 1908 painting entitled The Tinker.  We see the man busy at work, repairing damaged pots, pans, and domestic metal objects. Look at the varying textures of these objects.  Look closely at the wall of the room and see how Buland, with touches of white has a glistening effect which highlights the dampness on the stone wall.
I like two of Buland's works which have a political overtone to them.  In 1889 he painted Propaganda Campaign in which we see a travelling salesman has arrived at the home of a poor family and he is trying to offload books and coloured prints to the head of the household. However, he was not just a salesman as he combined his sales pitch with his political thoughts.  In the salesman's left hand he holds a poster of General Boulanger, a French general and politician who was an enormously popular public figure during the 1880's and the buttonhole rosette in the salesman's jacket lapel identifies him as a canvasser for the General.
The other political painting by Buland which I like is his provincial municipal depiction of a group of local councilors.  The 1891 work is entitled Municipal Council and Commission of Pierrelaye Organizing a Festival.   Pierrelaye is a commune in the Val-d'Oise department in Île-de-France in northern France.  It is almost certainly a painting commissioned by the very councilors who are depicted in the work.  They all exude an aura of importance and solemnity.  For those who would look at this group portrait by Buland there would be no doubt that the councilors would be worth every penny of their wages !!!!
My final choice of Buland's paintings is a dark and somewhat brooding study of two workmen sitting on a large log, who are trying to fight off the cold by warming themselves in front of a brazier. Maybe they are woodsmen who have just come inside the hut for a rest having been working outside in the cold. The room is dark and dank and the two figures are just about lit up by a thin beam of daylight penetrating a small window high up in the wall.
Jean-Eugène Buland died on March 18th 1926, aged 73.