Sometimes when I am searching for a new artist to write about, I come across a painting which just sticks in the mind and I know I have to learn more about the painter who has delivered such a beautiful depiction. This blog is a prime example of this modus operandi.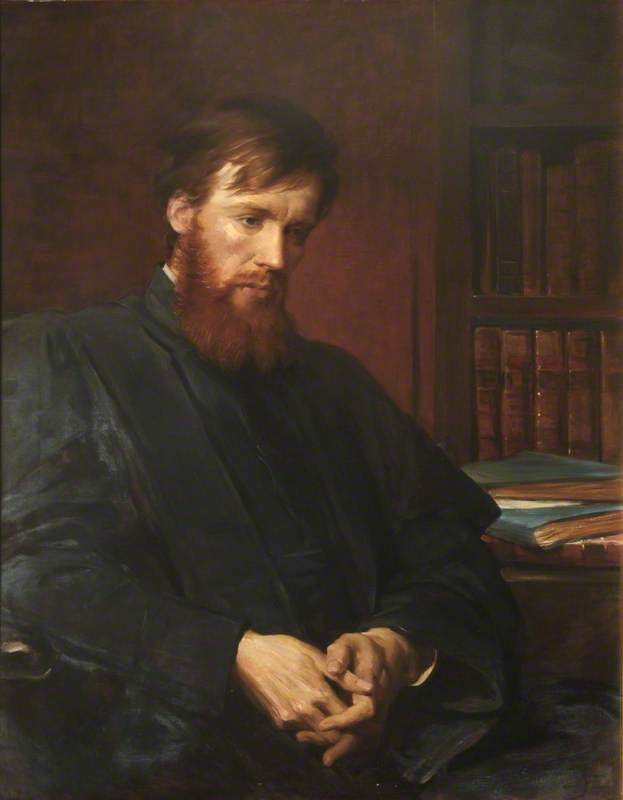 Today I am looking at the life and times of the American painter, Anna Massey Lea Merritt who spent most of her life painting whilst living in Britain.  Anna Massey Lea was born on September 13th 1844 in the city of Philadelphia. She counted among her ancestors Andrew Robeson, the first Chief Justice of Pennsylvania back in 1693. Anna was brought up in a wealthy Quaker environment and was the eldest of six children of Joseph Lea and Susanna Massey.  Her affluent upbringing allowed her to attend politically progressive schools where she studied classics, languages, mathematics, and music with private tutors.  As far as her artistic upbringing was concerned, she began to study drawing with the portrait painter, William Henry Furness, at the age of seven.   Admission to the prestigious Pennsylvania Academy of the Fine Arts was probably not possible for her but later she studied anatomy at the newly founded Women's Medical College of Philadelphia.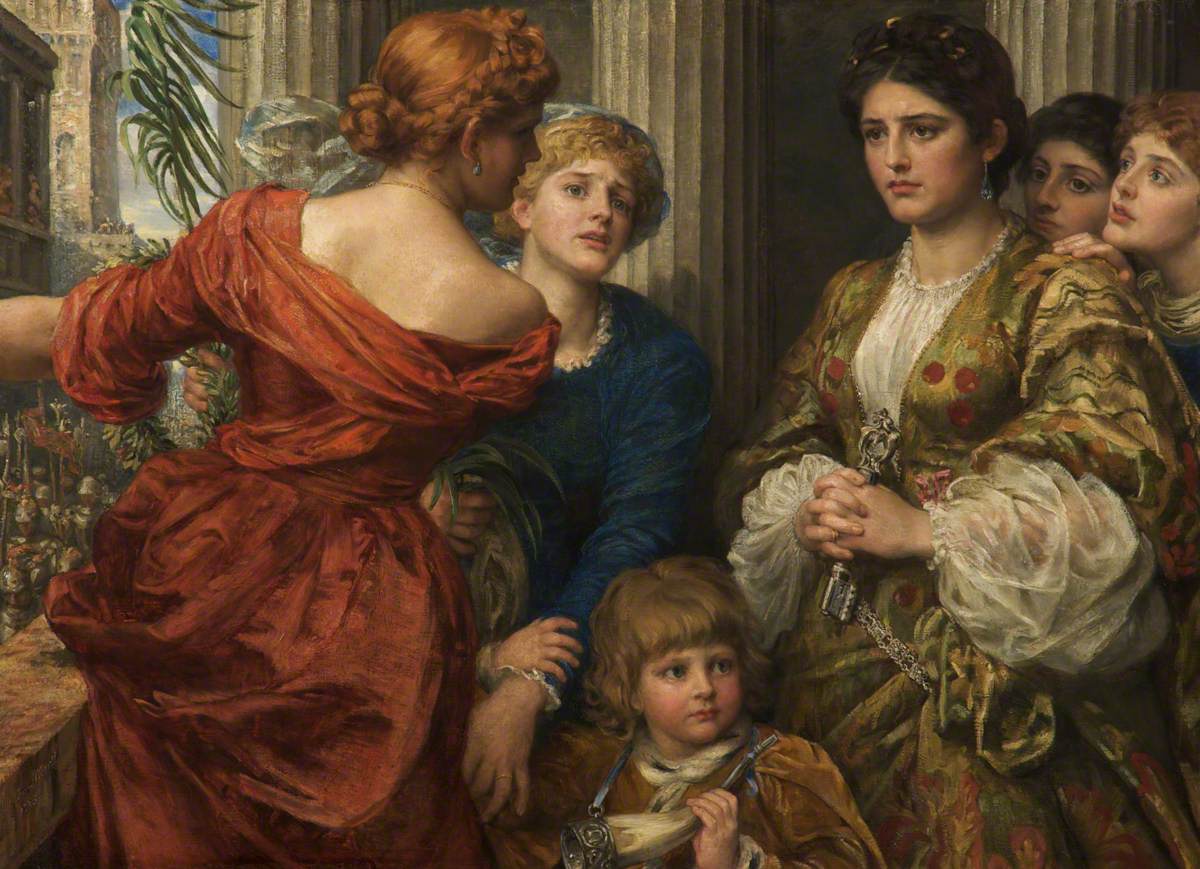 In 1867, when she was twenty-three, she and her family took a trip to Europe.  continuing her art studies at the Louvre in Paris, in Rome, and in Dresden with the painter the German painter, Heinrich Hoffman, at the Academy of Art in Dresden. In 1870 Anna was living in Paris.  She was at a boarding school living with her sister but that July the Franco-Prussian War broke out and the Prussian army was marching on the French capital.  Fearing for their safety, she and her family were forced to abandon France and make their way to London.  Rather than return to America with her family she persuaded her father to let her remain in London.  He acquiesced and arranged for her to live with family friends.  However, at their house there was no room for a studio but after searching for a suitable place she found one in the house where Henry Merritt lived. Later in her 1879 biography, Henry Merritt: Art Criticism and Romance, she wrote about the early days in the studio and her timidity towards Henry Merritt:
"…I soon heard that he was a restorer and a connoisseur, but with timidity natural in a woman living alone in a foreign country, I avoided every acquaintance which might seem to arise in an accidental manner. I shut myself into an ugly studio, with a window through which I could look neither on the earth nor into the sky, and produced ugly pictures with no truth in them…"
Once Anna had got over her initial shyness, she became quite close to Merritt and took advice from him with regards her paintings. She offered to pay him for his guidance but he refused stating his "rules":
"… if I teach you, I must have the right to do it my own way. I must come when I like and scold you as much as I choose, and be altogether my own master if I am to be yours…"
And so he began to critique her work and was often quite blunt as Anna remembered:
"…So it was : how he scolded me ; how ruthlessly he rubbed out again and again the work of days, bidding me do it better ; what pains he took to make me appreciate true points of excellence ! When my work was dry, and had lain by awhile, he would sketch upon it in crayon, de- signing backgrounds or trying various effects of chiaroscuro. No one ever witnessed as I have done his fertility of invention, his refinement of colouring, his variety in touch. Often, he would work thus for a couple of hours, transforming my tame study of a model into a vision. The picture would go through a succession of different effects, any one of which could have satisfied a less imaginative mind. He would then throw down the chalks or the brushes, as the case might be, just give me time to study it, and wash off all he had done, bidding me make another design according to similar laws…"
Over time Anna's relationship with Henry Merritt changed from Master and Pupil to a more intimate relationship. Around the winter of 1875 Henry's health deteriorated and he developed a never-ending cough which he downplayed to Anna saying:
"…It would be impossible to cough so splendidly with weak lungs…..My cough is no better although I have practiced it continually…"
The cough didn't get better, in fact, it worsened and he began to cough up blood which he tried to ignore using a coloured handkerchief to catch the phlegm and disguise any signs of blood. In the Spring of 1876 Anna was forced to leave London and travel to America as escort for her younger sister who had to return to the family. She told Henry that she did not want to leave him but it was her duty to the family but she promised to return in the Autumn.
Anna, once in America, now found herself having to pay for two studios – the one in America and the rent on her London studio and to afford this she had to find some commissions for her work.  All the time Henry was writing to her telling her to concentrate on her art and look for work.   The tone of his letters showed how he had become devoted to Anna.  He would address his letters to:
"My dear little pupil"
In a letter from his Devonshire Street studio, dated May 8th 1876, he tried to ease Anna's worries that during their enforced separation he would forget her and write words to boost her self-belief. He wrote:
"…You imagine that I shall forget you. Am I likely after all the trouble I have taken to make a painter of you ? Do we plant fruit trees in order to leave them when the blossoms that are to produce peaches and apples appear ? Some day you will learn to value your many precious gifts better than to surmise that anyone possessing understanding will fail to appreciate a talented girl. Those who have hearts—there are not many—will not fail to see that Anna M. Lea is also a generous girl. I saw it long ago, or I should hardly have taken the trouble to teach her to spread colours upon canvas…"
Their separation lasted until March 1877. It was a time when Anna was grieving for two close relatives who had died and it made her more conscious with regards life and death and that Henry was still ill and living alone in London. It also coincided with having completed a number of lucrative commissions so that she was in the financial position to buy a sea passage to England.
In mid-March 1877, Anna arrived in Liverpool and travelled down to London to see Henry. A small celebratory party followed. Of the evening Anna recalled what Henry said to her. In her 1879 biography of her husband, Henry Merritt: Art Criticism and Romance, she recalled his words:
"…Little Pupil we shall be married. I cannot part from you again. I am like a ship at the end of a long voyage, after ploughing the ocean for many a year, become covered with barnacles and all sorts of queer clinging weeds. But I do not see why I should give up our happiness for the sake of ungrateful people, who only think of what money they can get from me. We can still spare something for them, but in time perhaps you will have to defend me from them. You will be happy living in a cottage, as we soon shall, when I show you what a beautiful life it can be made. You are my only true friend, we must never be separated…"
On April 17th 1877 Anna and Henry married privately at St Pancras Church, London. She was thirty-three years old, he was fifty-five. It was a happy time for the couple. However Anna was ever conscious that her husband's facial expression could not mask the pain he was in. On July 22nd, Henry's fifty-fifth birthday they drove to Hampton Court and talked about their future plans and buying a small cottage in the country. Henry's health took a turn for the worse and Anna recalls those last days with her husband:
"…Suffering became intense, but was never more nobly borne. His constant thought was for me. He feared my fatigue, he-feared my anxiety; but it was my great comfort that he could not spare me from him. No one else could be permitted to wait upon him, and for every trifling service he was so grateful, as though he did not expect to be tenderly nursed. 'I have borne years of loneliness,' he said, ' but happiness is too much for me."
Henry Merritt died in July 10th 1877, shortly after his fifty-fifth birthday and he was buried in Woking and as she promised Henry, Anna had an elm tree planted above his grave. Anna had decided that she would give up painting when she married Henry but now, with him dead, her plans had to change and she survived financially by her portrait paintings and her depictions of Victorian subjects.
Now, I come to that painting I mentioned at the beginning of the blog.  It is looked on as her great masterpiece.  It is entitled Love Locked Out which she completed in 1889.  This painting shows young Cupid, the god of desire, pressed against the door of a tomb. Anna painted it as a memorial to her husband.  The thorny rose around the door frame symbolises the pain of bereavement and the persistence of love. Cupid has abandoned the world, his arrow and extinguished lamp lie on the ground with the autumn leaves. Anna described the depiction as Cupid attempting in vain to force open the door of a mausoleum, as 'Love waiting for the door of death to open' so that the 'lonely pair' might be once again reunited.  In a way it symbolised her desperate effort to be with her husband in the next life.  The work was exhibited at the Royal Academy in 1890 and is now part of the Tate Britain collection. She was the first woman artist to have a work acquired for the Tate collection. 
In 1894 Anna Merritt completed another painting which depicted the two worlds – pre-death and after-death, The Watchers of the Straight Gate is Anna Merritts take on the transition between Earth and Heaven, between the living and the dead. The setting is just inside the gate to Heaven.  The reddish marble columns were reminders to Anna of the columns at the National Gallery, where she sought special permission to bring her canvas so that she could paint them directly, rather than from memory.  The artist has depicted two angels.  One carries a scale on which to weigh the soul of who wishes to enter the kingdom of heaven.  The other angel is seen holding a crown of wild roses with which to welcome accepted souls into glory. If we look between the gate we are offered a view of a verdant landscape transected by a path, which Anna described as depicting the 'steep road descending to our village' of Hurstbourne Tarrant in Dorset, where she was living at the time.
In 1890 Anna Merritt moved out of London and settled permanently in the Hampshire village of Hurstbourne Tarrant. It was her love of the rural village that made her put pen to paper years later and produce her 1902 book, A Hamlet in Old Hampshire.
In 1893 she received medals for two works at the Chicago World's Columbian Exposition, a mural in the Woman's Building and the painting Eve Overcome by Remorse which she had finished six years earlier.
She then accepted the commission to paint murals for St. Martin's Church in Surrey (1893-94).
Merritt was a member of the Royal Society of Painter-Etchers and carried out numerous portrait commissions, including her 1882 portrait of James Russell Lowell, the American Romantic poet and is now part of the Harvard University Portrait collection.
Often I have written about the obstacles put in front of aspiring female artists but strangely Anna Merritt was not convinced about this and in 1900, she wrote an amusing article in Lippincott's Magazine entitled Letter to Artists in which she cited problems in domestic life as being the main problem for female painters.  The article concluded:
"…The chief obstacle to a woman's success is that she can never have a wife. Just reflect what a wife does for an artist: Darns the stockings; keeps his house; writes his letters; visits for his benefit; wards off intruders; is personally suggestive of beautiful pictures; always an encouraging and partial critic. It is exceedingly difficult to be an artist without this time-saving help. A husband would be quite useless…"
Anna Lea Merritt died in Hurstbourne Tarrant, Hampshire on 5 April 1930, aged 85.