My featured artist today is the late Victorian painter Arthur Hacker. He regularly exhibited his works at the Royal Academy, London and the New Gallery in Regents Street which closed as a gallery in 1910 and is now a fashion store. His painting genres were many including works featuring contemporary drama, mythological and Biblical narratives, landscapes and still lifes. Later he concentrated on portraiture which proved very lucrative.
Arthur Hacker was born on September 25th, 1858 in the North London district of St Pancras. His father was Edward Hacker, a line engraver who specialised in animal and sporting prints. Edward Hacker worked for forty years for the Sporting Review. Having completed his normal schooling, eighteen-years-old, Arthur Hacker applied for and was accepted into the Royal Academy Schools in 1876 and after four years of artistic tuition graduated in 1880. He then, like many artists of the time, travelled to Paris and trained in the atelier of Léon Bonnat. One of his fellow pupils at the Royal Academy Schools and at the atelier was Stanhope Forbes, the English artist who was a founding member of the influential Newlyn school of painters. Arthur was greatly influenced by French art, especially their plein air realism.
In 1881 he had his painting Her Daughter's Legacy displayed at the Royal Academy and it received rave reviews. An engraved version was used as an illustration for The Illustrated London News, on August 6th 1881.
Hacker completed a number of other paintings which depicted the harsh reality of peasant life. One which particularly catches the eye is his painting, A Heavy Burden, in which we see a a man struggling to carry his sleeping son through fields whilst his daughter follows on behind clutching hold of a bunch of wildflowers in the folds of her apron, which she has managed to pick during their walk.
Once Hacker had completed his studies in Paris in 1884 he set off on a painting voyage of discovery through Spain and north Africa with his friend and fellow British painter, Solomon J. Solomon, who painted Hacker's portrait when the two were in Tangiers. This would be the first of many expeditions Hacker made to Africa.
In 1886, Arthur Hacker along with Stanhope Forbes and Philip Wilson Steer, joined The New English Art Club (NEAC). It was founded in London as an exhibiting society by artists influenced by impressionism and whose work was rejected by the conservative Royal Academy and were looking for a new exhibition space. Early members were James Abbott McNeill Whistler, Walter Sickert and Philip Steer. Others in the NEAC's first show included Sir George Clausen, Stanhope Forbes and John Singer Sargent.
For most of us the name Charles Kingsley conjures up his famous children's book, The Water Babies, which he published in 1863. However, ten years earlier he published a novel entitled Hypatia which recounts the fictionalised account of the life of the female philosopher Hypatia. It was said to have been a favourite of Queen Victoria. Also, within the tale is the young monk Philammon and his search for his sister Pelagia who has been living as a hermit in the desert. In Hacker's 1867 painting we see this poignant meeting of the siblings. Pelagia is at the point of death, and Philammon administers the holy sacraments to her. Philammon is sitting by the body of his sister. A chalice can be seen by his side. In the background we see vultures aware of the oncoming death.
Another of Hacker's paintings which featured a nude woman was his 1897 work entitled The Sea Maiden.
Arthur Hacker also painted a number of religious works and one of his best known was his 1892 painting entitled The Annunciation which is now part of the Tate Britain collection. The depiction presents the Biblical story of the Annunciation, as was recorded in the Gospel of James. In that particular account, Mary, while gathering water from a well, is visited by an angel, which she cannot see. It is said by some that it is Hacker's most beautiful painting.
The angel tells Mary that she will have a baby and that he should be named Jesus. It is thought that during Hacker's travels in Spain and North Africa he was influenced by the life amongst the native people and in this painting it could well be that the clothes we see Mary wearing replicates the Islamic dress Hacker will have seen during his travels. The fabric enshrouds Mary almost makes her ghost-like. Mary stands tall with such grace. she wears layers of soft, floating, light fabric. These robes lend her multiple identities. All at once she is a classical Grecian statue, a goddess, and a bride. She appears authoritative and ethereal, yet tragic and mournful.
In the work, the figure of Mary is both radiant and haunting and is framed in the centre of the painting. Hovering behind Mary is an angel who has floated down from the sky. Hacker has painted the angel so translucently that he almost disappears into the background. In the angel's hand the there is an offering of a lily. Historically, flowers are symbolic of the Virgin Mary's and the lily's' white petals imply Mary's chastity and the golden pollen of the flower symbolises her radiant soul. On either side of her, Hacker has placed objects which help narrate the story. A large brown clay water jug is on the floor by her feet. Behind her we see the twisted trunk and branches of an olive tree.
In front are steps and a low wall, which encircle the pool of water which she has come to, so as to fill her jug. Mary seems detached from things around her. She ignores them as she stares directly towards us, the viewer. Look how she looks out at us. We are hypnotised by that penetrating stare. Her eyes are dark and disconcerting and contrast with her small, white, veiled face. She has a thoughtful and solemn countenance and her hands are resting against her heart. She is now aware that something dramatic is taking place, something which will affect her life.
Infra-red photography shows that the painting originally included a woman wearing a headscarf sitting behind Mary.
One of Hacker's well-known works is his Pre-Raphaelite-style painting The Temptation of Sir Percival. The 1894 painting depicts a scene from Thomas Malory's 1480's book Le Morte d'Arthur, recounting the story of King Arthur, Guinevere, Lancelot, Merlin and the Knights of the Round Table, including Sir Percival a knight of the Round Table who went on a quest to find the Holy Grail. During that mission, the devil in the form of a beautiful but predatory women tries but fails to seduce Sir Percival and get him drunk. Sir Percival however on looking at his sword he notices the handle and its shaft form a cross. On seeing this, he crosses himself and the woman vanishes.
The Temptation of Sir Percival is now kept in the Leeds City Art Gallery collection.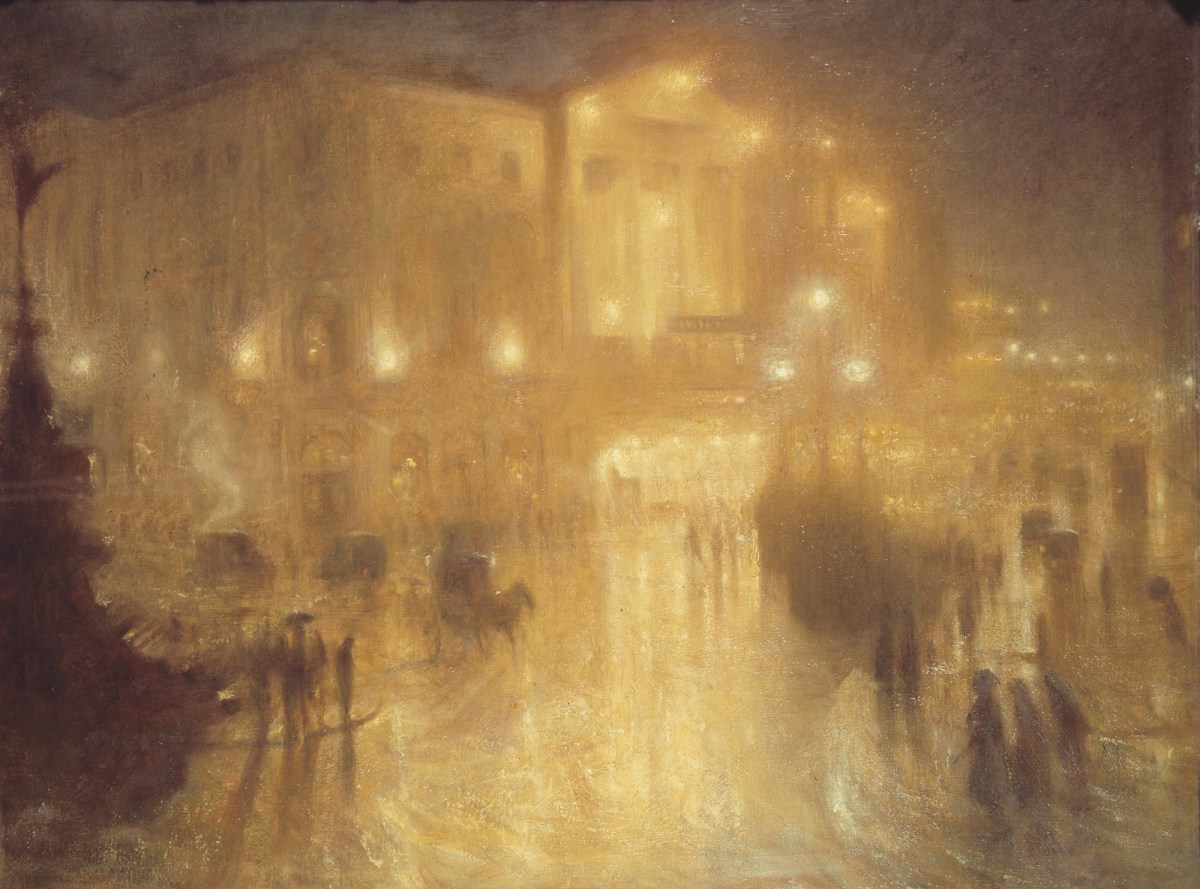 Public taste in art changed around the 1890's and their once-loved genre of historical subjects began to wane and this forced artists, of that genre, to think about diversifying. Arthur Hacker had to change the subjects in his paintings but he was equal to the challenge. One solution for Hacker was his decision to re-visit his earlier ideas which had still engaged public interest. He once again experimented with misty, atmospheric depictions of the London streets, undoubtedly motivated by the work of the French Impressionists, and produced a wonderful painting, Wet Night, Piccadilly Circus which he completed in 1910 and submitted it as his diploma piece when he was promoted to the rank of Royal Academician.
For reasons of finance it was important for artists to judge the changing interests of the buyers of art. They needed to know what could make them the most money. Arthur Hacker, like John William Waterhouse, Frank Dicksee and others, decided that portraiture could be a wise financial strategy and they began to develop a flourishing portrait practice. Hacker carried out many portraiture commissions and amongst his sitters were politicians, army officers, high-ranking clergy, aldermen, headmasters, physicians and society women.
An example of Arthur Hacker's portraiture can be seen in his Portrait of John Gordon Thomson, who drew the central cartoons for Fun the Victorian weekly magazine a rival to the better-known Punch magazine. Thomson was an artist who had his work exhibited at the Royal Academy and illustrated many books and magazines.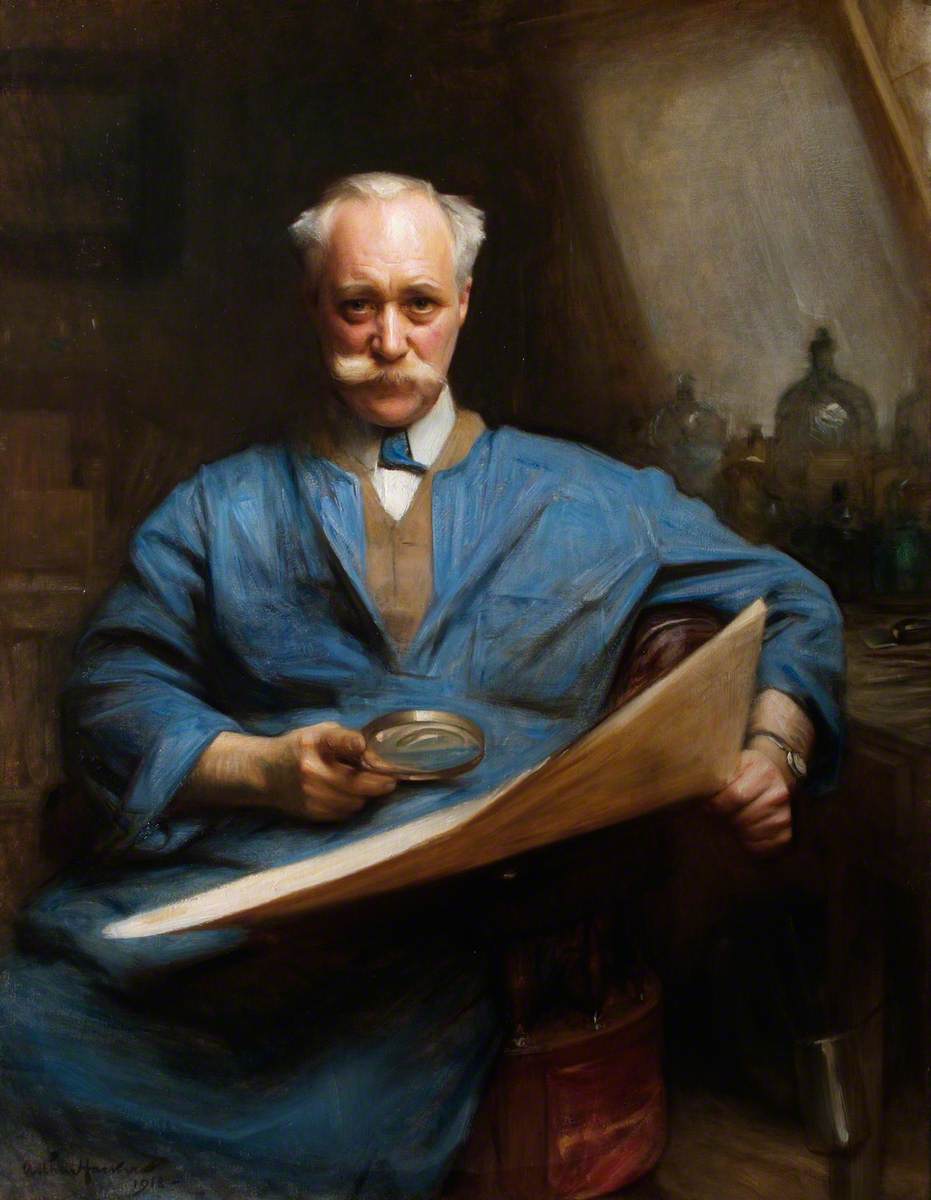 Another portrait by Arthur Hacker was his 1918 work depicting the British engraver Frank Short who was born at Wollaston, Worcestershire. He was the son of an engineer and trained to follow his father's profession; his scientific background gave him a deep understanding of materials, and he made his own tools and invented new ones.
Another beautiful work of portraiture was his portrait of his mother in 1907. Albeit a very formal pose it still manages to remain both sophisticated and gentle in its depiction of the elderly lady.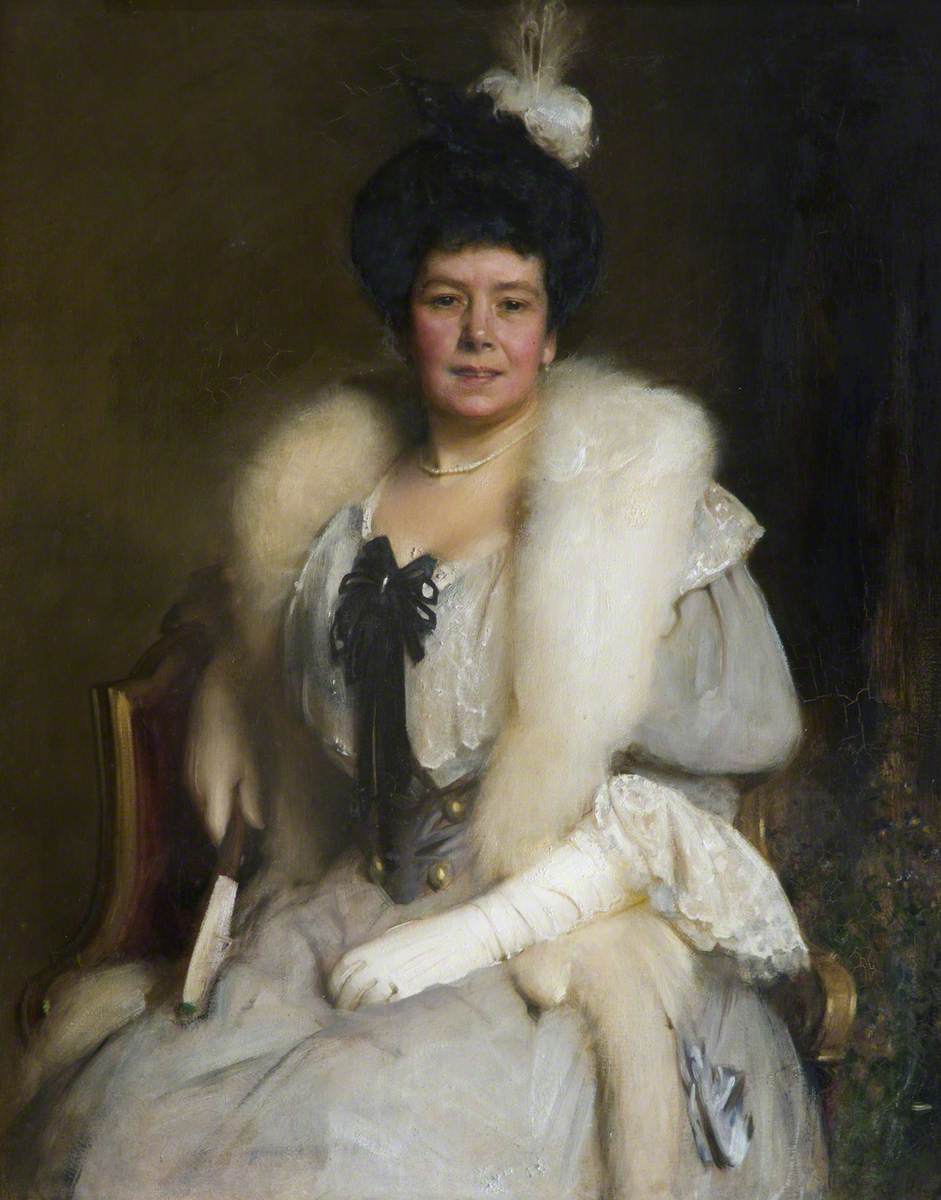 In 1902, Hacker built a new house at Heath End, Checkendon, Oxfordshire, and named it Hall Ingle. He had commissioned a young architect Maxwell Ayrton to design the property and carried out the decorations himself. Arthur Hacker died in Kensington, London on November 12th 1919. He was sixty-one years old. He is buried in Brockwood Cemetery, Surrey.