My artist today was born Marie-Joséphine Vallet and it was not until later in her life that she changed it to Jacqueline Marval.  She was the second of eight children of her parents who were both teachers.  Jacqueline Marval was Born in Quaix, near Grenoble, France on October 19th 1866.  Her parents, wanting their daughter to follow in their footsteps, persuaded her to become an educator and by 1884 she had a teaching degree.  However, teaching was not for her and she began to spend much of her time painting.  In 1886, aged twenty, she married Albert Valentin, a travelling salesman.  Their marriage did not prove a success despite Marval giving birth to a son.  The end of the marriage came shortly after their six-month-old baby died and the couple divorced in 1891.  Now that she had become a divorcee she had to earn money to survive and she took up a job in a clothing factory in which she made waistcoats, gilets and vests and soon due to her ability she became a very proficient tailor and embroiderer.
She lived briefly in her hometown of Grenoble, where in 1894, she met the painter François-Joseph Girot and she moved with him to Paris.  A year later she left Girot and became enamoured with another artist, Jules Flandrin who had studied under Gustave Moreau at the École des Beaux-Arts.  Vallet and Flandrin lived together in rue Campagne-Première in the Quartier du Montparnasse.  It was through her relationship with Flandrin that Marval decided to become a professional artist.  It was in 1900 when Vallet took on the pseudonym Jacqueline Marval, "Marval" being the composite of her first and last name "MARie VALlet."
The Salon des Indépendents was created in 1884 in Paris by a group of young artists, Cezanne, Toulouse-Lautrec, Pissarro and others who were tired of having their work judged by a bunch of tradition-bound academic artists wishing to be able to freely exhibit their works and free themselves from the influence of any jury.   The Salon des Indépendants was a chance for them to show their work directly to the public. Despite having her first submissions rejected by the Salon des Indépendants in 1900, the following year she managed to have ten of her paintings under her new name, Jacqueline Marval accepted at the 1901 Salon des Indépendants.  Ambroise Vollard bought ten paintings from her, including Odalisque au Guépard. The term odalisque means a chambermaid in a harem. Around this period Europe was captivated with the East, and it was termed Orientalism, which manifested itself in furniture, fashion, decorative arts and works of art.  Odalisque au Guepard meaning Odalisque with Cheetah is actually a self-portrait by Marval.  We see before us Marval's Odalisque, a naked young woman with elegant hairdo lying on a balustraded balcony between a flowered foreground and foliated background. A double layer of fabric protects her exposed flesh from the hard yellow and blue tile floor. She leans on one elbow, whilst her other arm reaches out to stroke the cheetah. She faces forward, but does not acknowledge our presence and although naked she makes no effort to cover herself and the impression we have of her is one of impertinence, and self determination.
Things got even better for Jacqueline in 1902 when she had some of her paintings exhibited alongside those of Flandrin, Albert Marquet and Henri Matisse in Berthe Weill's small gallery on rue Massé.
At the  Salon des Indépendants in 1903, Jacqueline Marval submitted her painting entitled Les Odalisques.  It is one of her masterpieces and presently hangs in the Musée de Grenoble. This painting depicts five women: three seated nude, one dressed and reclining on her elbow, and one standing, clothed and holding a tray. Les odalisques follows in the art historical tradition of large-scale orientalized bathing scenes, with a strong focus on the nude body and the interaction between figures. One has to admire the spirit of Marval who had the courage to paint herself as a prostitute five times on this canvas !
Berthe Weill had been born in Paris on November 20, 1865. She was the fifth of seven children and the elder of the two daughters born to Solomon Weill and his wife Jenny (née Levy). Because she was a Jew, Berthe Weill for her to become an art dealer through the back door similar to how many Jews had to enter many other occupations. During the 1880's she began working for Salvador Meyer, an antiquarian, whose premises were located on rue Lafitte. During the long period working for Meyer she was able to train her eye and to learn first-hand about a variety of objects ranging from bric-a-brac that was rarely suitable for the finest town houses or châteaux to genuine antiques.  In December 1901, just after her 36th birthday, she opened a gallery, Galerie B. Weill, which was dedicated solely to modern art.  Why not use her full name for the gallery?  The reason was simple. 
Most art dealers were men and Berthe knew that her gallery was likely to fare better if collectors did not know initially that it was owned and operated by a female!  Weill was also particularly interested in promoting female artists who were living in Paris.  She had an impressive list of artists who had made their way through her gallery and submitted work for her to sell, including Raoul Dufy, André Derain, Maurice de Vlaminck, Diego Rivera, Georges Braque, Kees van Dongen, Maurice Utrillo, Pablo Picasso and Jean Metzinger. However she never forgot the plight of female painters and gave the early exposure and sales of women painters such as Suzanne Valadon, Emilie Charmy and today's artist, Jacqueline Marval.
There was, in 1905, a major event in twentieth century art, an exhibition at the Salon d'Autumne. It was an exhibition that opened in Paris, on October 15th, 1905, and which included paintings by Marval. It was said that the exhibition 'shocked many who saw, and many more who did not'. It was at this exhibition that the art critic Louis Vauxcelles pointed to a quattrocento-like sculpture by created by Albert Marque in the middle of the gallery and exclaimed:
"…Donatello au milieu des fauves!…"
(Donatello among the wild beasts),
……..and the name fauves stuck. Fauve paintings are distinguished by a startling palette of saturated, unmixed colours and broad brushstrokes.
When Jacqueline Marval met Eugène Druet, little does she know how important this encounter will be in her career. Druet first owned the French Yacht Club, a small family café that he bought in 1893. The sculptor, Auguste Rodin, regularly frequented the café, and it was he who introduced Druet to art photography. Druet took many pictures of Rodin's sculptures and soon acted as his official photographer. In 1903, on Rodin's advice, Druet abandoned his café to open an art gallery at 114, Rue du Faubourg-Saint-Honoré which later moved to the Rue Royale in 1908. In 1909, Jacqueline Marval exhibited for the first time at Galerie Druet and during the following years, she would exhibit at the gallery over fifty times often alongside other artists such as Georges Rouault, Roger de la Fresnaye and Henri Matisse.
In 1912 the Galerie Druet staged a solo exhibition of forty-four of Jacqueline's paintings and it was well received.   The celebrated poet and art critic, Guillaume Apollinaire, praised Jacqueline Marval writing in an article in the journal, Le Petit Bleu:
"…Mme. Marval has offered art-lovers an entirely different kind of treat. This artist has imagination, and a very personal talent. Abstraction is not her strong point, but she has a marvelous ability to reveal the poetic reality of her subjects. . . In her large canvas of odalisques, Mme. Marval has given the measure of her talent and has achieved a work of importance for modern painting. This strong and sensual work, freely painted and wholly personal in composition, line and coloring, deserves to survive…"
In 1913, Jacqueline Marval's 1903 painting Odalisques au miroir was exhibited in the New York Armory Show, also known as the International Exhibition of Modern Art.
It was the first large exhibition of modern art in America, as well as one of the many exhibitions that have been held in the vast spaces of U.S. National Guard armories.
Many visitors and art critics were shocked by the Modern art on display with Kenyon Cox of Harper's Weekly describing what he saw at the Armory Show:
"…it is not amusing, but appalling and disgusting. I was attributed saying that the human race was approaching madness. I never did, but if one tries to convince me that this is modern art and this is representative of our present, I will have to think it is…"
The Théâtre des Champs-Elysées is said to be one of the most beautiful concert halls in Paris. This historical edifice, which is considered by many as one of the first Art Déco ones, was the first concrete building of the architects Auguste and Gustave Perret. It was built in 1913 by a group of artists, Henry Van de Velde, the Perret brothers, Antoine Bourdelle, and Maurice Denis.
Jacqueline Marval was put in charge of completing eight panels for the building that will be the decor of the Foyer de la Danse. Marval chose as her theme, Daphnis et Chloé, an early 20th century ballet my Ravel, based upon a second century Greek tale. The subject of the opera was the trials and ordeals suffered by two young shepherds, who were young lovers. However there was also a hidden meaning for these depictions being placed in the Foyer de la Danse as it was here that many older men would gaze lecherously at the young, sometimes impoverished, dancers as they rehearsed. 
It was to remind them that the paintings were a celebration of love between two young people.  Paul Jamot, commented on this, writing in La Gazette des Beaux-Arts, First Semester, 1913:
"…since some elderly men who think money gives them rights and merits, come here as conquerors, those walls will let them know that nature only likes pairing youth with youth…"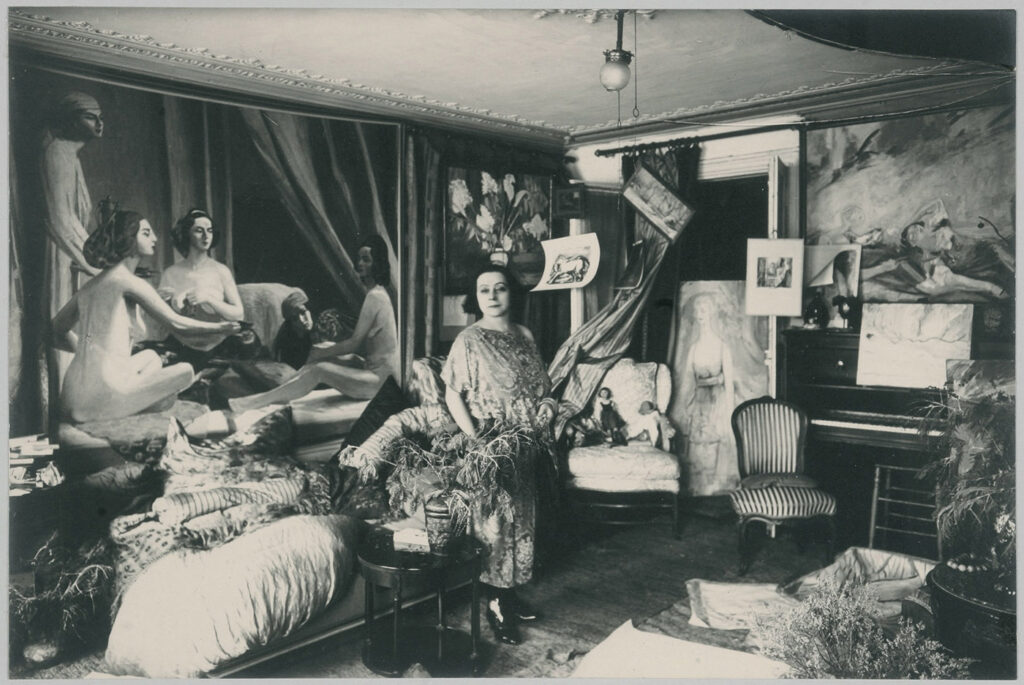 Jacqueline's reputation as a an artist grew year on year. During the 1920's she and Flandrin made many visits to Biarritz and it was in this seaside resort that she found new inspiration for her paintings.
Her paintings included depictions of beaches, baigneuses and fisher folk and in a way they were recording that time when bathing in the sea had become a favoured pastime and that French seaside towns were proving ever more popular with the French population.
The swimming costumes she depicted provided us with and observation of the fashion of the time.
Jacqueline regularly exhibited her work at the various Paris Salons where she would attend and ensure she was well recognised.
She became well known as an artist and her flamboyance was often noted in the local press which covered the Salon exhibitions.
Often she would be asked to produce the posters, and illustrate the invitation cards and the catalogue covers for Parisian salons such as the Salon d'Automne.
Following a prolonged illness Jacqueline's friend and French art critic René-Jean, took her to the L'Hôpital Bichât in Paris where she passed away on May 28th 1932, aged 65.