Paul Gustav Fischer was born July 22nd, 1860.  His ancestors, who were originally from Poland, were the fourth generation of the Fischer family to live in Denmark. His immediate family would be classed socially as upper-middle class. Paul was the son of Philip August Fischer and Gustafva Albertina Svedgren. Paul's father had started as a painter, and later succeeded in the business of manufacturing paints and lacquers.  Paul first received art tuition from his father but later went on to have formal art tuition.  He was apprenticed for a year and a half at the terracotta manufacturer C. Møller and graduated from the Technical Institute to the Royal Danish Academy of Fine Arts where he attended the general preparatory class in May 1876 but failed to complete the course, leaving in January 1878.  Following on from this, he became an assistant in his father's painting materials business and worked there for ten years.  During this time he still carried on with his own painting. At the start of his artistic career, Paul completed mostly sketches and illustrations which he submitted for inclusion in a number of magazines such as Out and Home, Illustrated Journal, Juleroser and Klods-hans.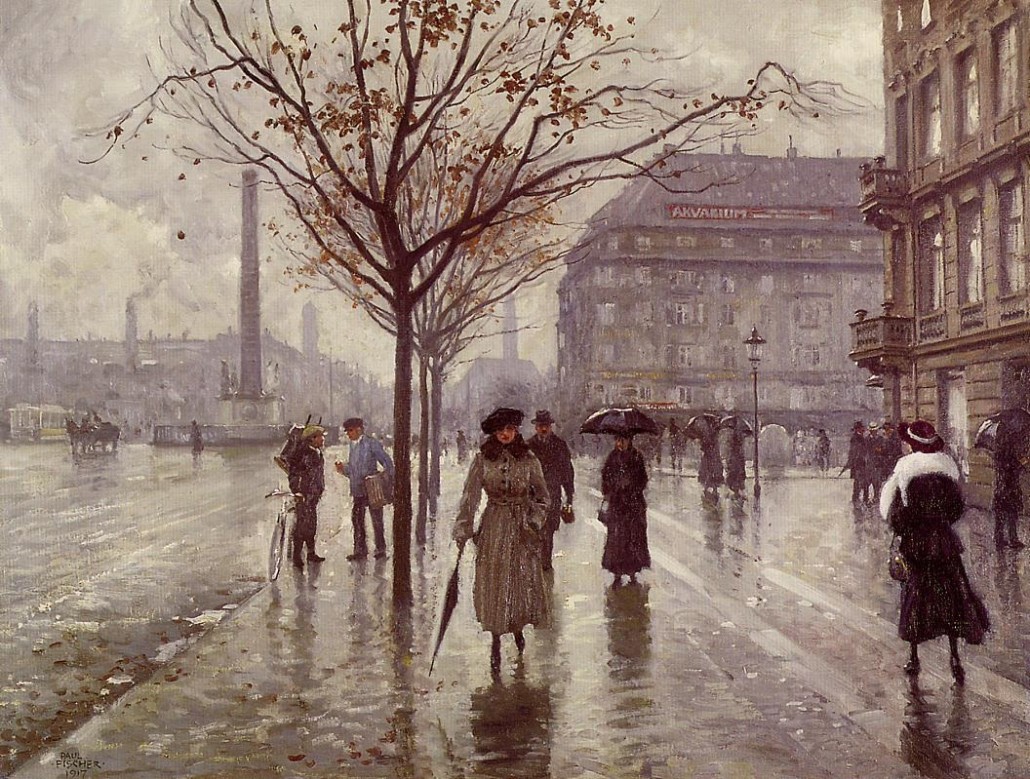 The standard of his paintings were such that he exhibited regularly at the Charlottenborg Spring Exhibition between 1884 and 1902. He has also had his work exhibited at the Salon in Paris and exhibitions in Munich, Berlin, Oslo and Stockholm.
His early paintings depicted city life, and it was this genre that established him with the viewing public. His depictions were often set in overcast or winter weather, but that was to change after his Paris trips when his works took on more colours and were warmer. Paul Fischer stayed in Paris on two occasions in the 1890s and became influenced by the French Realists, Gustave Courbet and Jean-Baptiste-Camille Corot.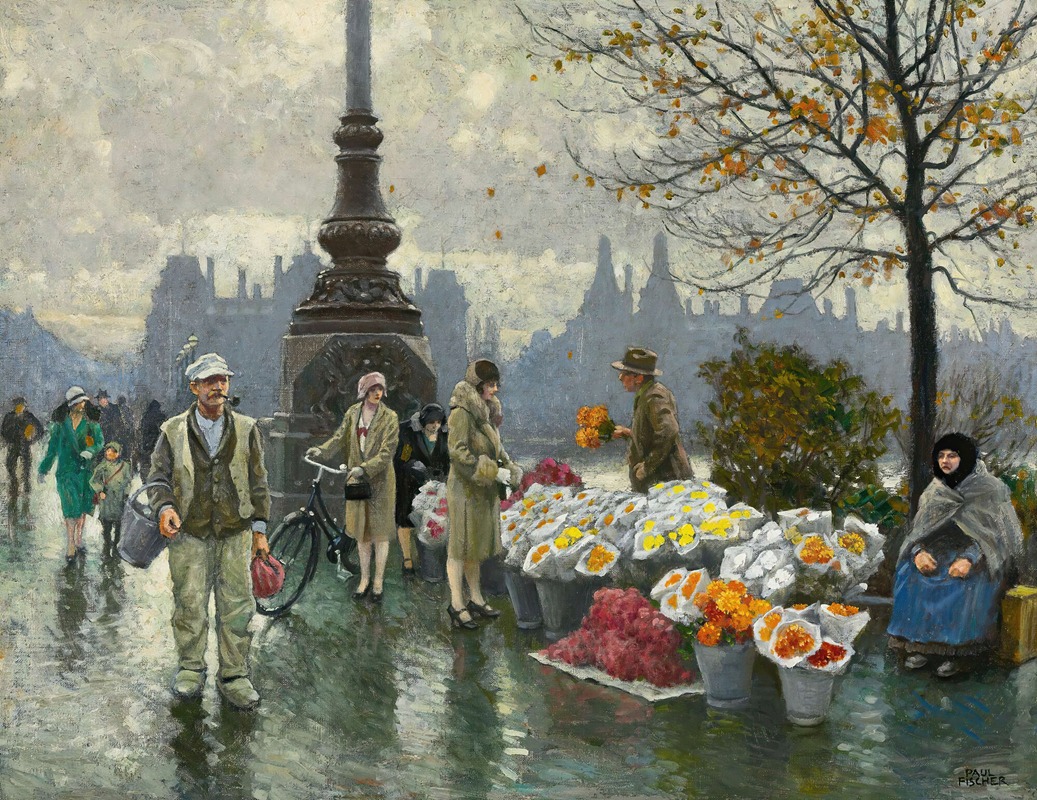 Paul Fischer painted motifs from Queen Louise Bridge with views towards Ferdinand Meldahl's two symmetrical palatial apartment buildings on Søtorvet – being some of the most French-influenced architecture in Copenhagen. Moreover, it was easy for him to compare the lakes on either side of the bridge with his beloved river Seine in Paris.
Especially famous are his colourful paintings, one of his most popular ones featuring the cityscape of Copenhagen is his 1900 work entitled Højbro Plads seen from Højbro.   Højbro Plads (High Bridge Square)  is a rectangular public square located between the adjoining Amagertorv and Slotsholmen Canal in the city centre of Copenhagen.  Højbro is a bridge in central Copenhagen, which connects the city centre to the small island of Slotsholmen, on which is the Christiansborg Palace.
Paul Fischer married Dagny Grønneberg on November 24th,1886. Her father, Julius, was an art dealer and her Norwegian mother, Hulda Azora Tegner was a painter.
Paul and Dagny's daughter, Harriet Fischer, was born on July 24th, 1890 and grew up in a busy artist's studio and her father Paul Fischer persistently used household members as models, and often Harriet featured in some of his paintings both as a little girl and as a young girl, in portraiture and as a supporting figure in the street scenes.
Harriet was admitted to the Royal Danish Academy of Fine Arts in Copenhagen, where she was from 1915-1920. From 1920-1940 she travelled on countless study trips to most of Europe. When their daughter began painting, it is known that she and her father exhibited together during the summer stays in Båstad in the years before World War I.
Another beautiful painting featuring his daughter was his 1908 work entitled Harriet in the living room at Sofievej.
Paul Gustave Fischer was also well known for his amazingly natural sunbathers and his 1916 painting Sunbathing in the Dunes is a good example.
The models seem to be happy to pose on the beach but I am sure were reluctant to parade nude in the icy waters of the Baltic.
There are more than a dozen such works painted over a number of years, and it is interesting to note how, in the depiction, his striking  bathing beauties merge so wonderfully with the sands of the beach one which almost makes ignore the erotic overtones of the paintings.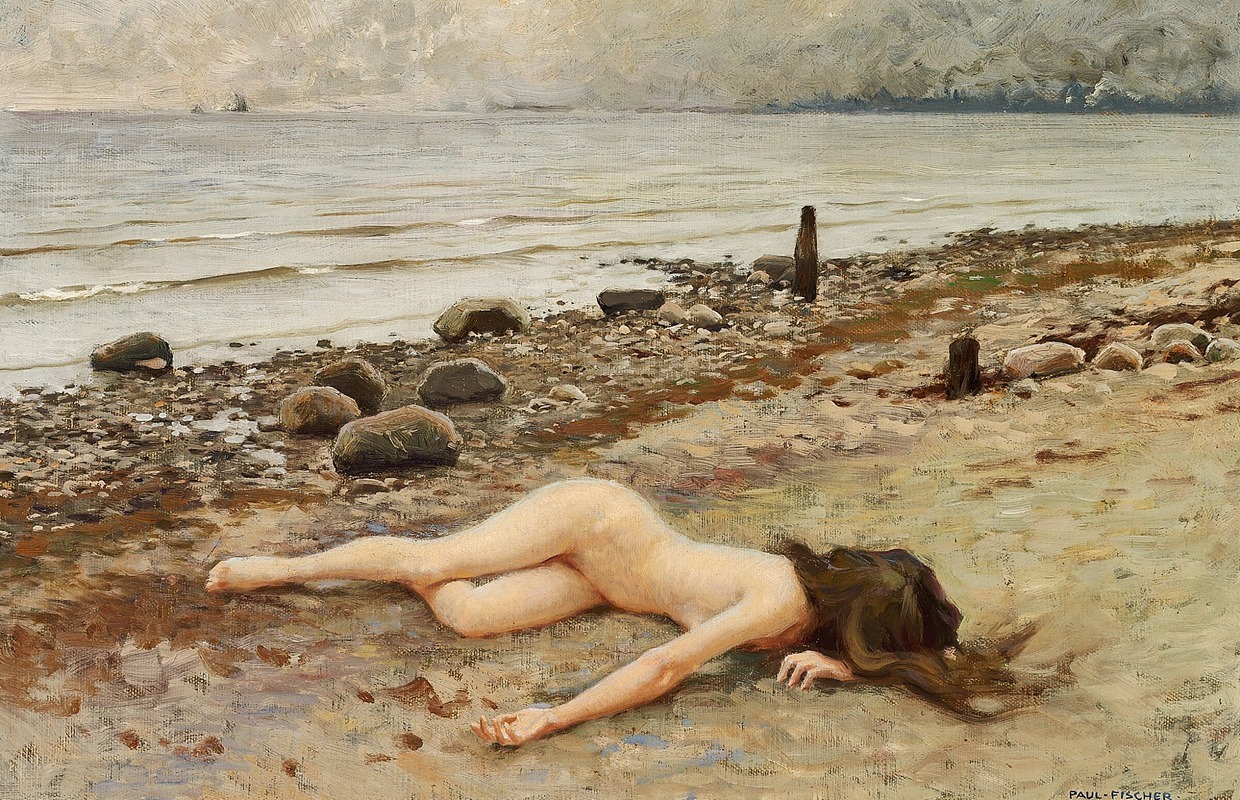 Most of Fischer's paintings are populated with female figure, some attractive older ones but also depicting young girls such as his 1903 tender Portrait of a Young Girl.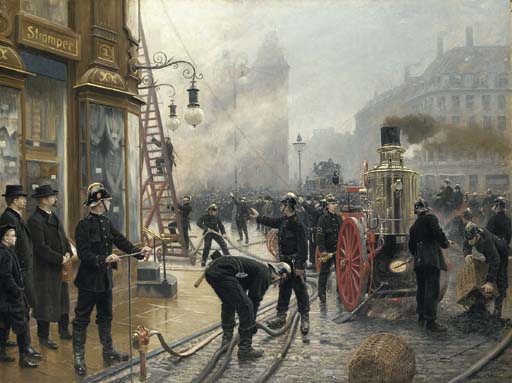 However, my favourite works of Paul Fischer are his everyday scenes of city life featuring people of all social classes and it is his depiction of the real lives of those around him which in part explains his popularity.  Take for example his 1900 painting The Fire Engine.   This is a depiction of a classic everyday occurrence.  It is a "busy" painting.  There are so many things happening in the depiction and your eye flits from one to another.  We, like the crowd, are drawn into the present dramatic happenings.  The red and gold coloured fire engine takes centre stage in the painting and, in a way, it is a salute to the industrial growth of the time.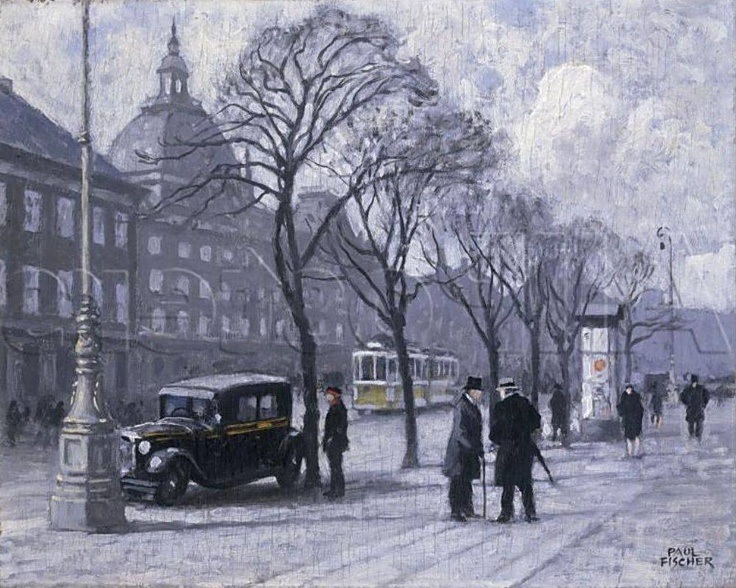 The late 19th and early 20th century in Denmark, like other European countries was rapidly changing and these changing times were captured in Paul Fischer's cityscapes often populated with the motor cars, trams and other vehicles.
The 1927 work In the Tram Compartment by Paul Fischer is a fascinating depiction of everyday life.  The man reads his newspaper whilst the woman looks outside at the cityscape they are trundling past.  A bunch of flowers is on the bench next to her.  Maybe a gift from the man and yet he shows no interest n her and may just be a fellow passenger.  It is painting like these that you gaze at and make up a story of what you believe is going on!
Fischer depicted everyday life and tram rides on a number of occasions, such as the one above. Maybe he was fascinated with this form of transport or maybe he was interested in the interaction between the passengers. Again we have a man reading a newspaper and a woman sitting next to a bunch of flowers.
Paul Fischer travelled through a number of European countries, sketching and painting. One of his favoured countries was Italy and during the last decade of the nineteenth century he visited the area around Naples and the ruins of Pompeii. In 1894 he produced a pencil and watercolour sketch of the area which was given the name View from Pompeii.
Another painting around this time was a work in oils, simply entitled Italian Street Scene.
In the early twentieth century Fischer's paintings were selling well.  However, he was still in the shadow of his contemporary, the leading Danish painter of the time, Laurits Tuxen.  However, one would have that thought the life was good for Fischer.  He had a beautiful wife, Dagny, and a fine-looking and talented daughter, Harriet, but that was not the case as his marriage to Dagny ended in 1914. 
On June 17th, 1914, sixty-year-old Fischer married his second wife, twenty-five-year-old opera singer, Martha Vilhelmine Jensen whom he had been dating for some time.  His first wife, Dagny Grønneberg eventually went to live in Oslo where she died six years later on February 24th, 1920.
Paul Fischer died in Gentofte, a northern suburb of Copenhagen on May 1st 1934 aged 73